Note : If you click a link on this page and make a purchase, I may receive a commission but it won't cost you any more. See my disclosure notes
here
.
Zombie garden gnomes can be a great alternative to rude, or funny gnomes.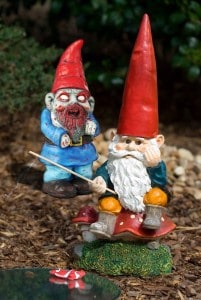 The popular premise for zombie films is one of infection.
A scientist at a secret lab infects some poor lab creature with a test virus. The virus affects the host in a way they don't foresee and the animal responds, attacking and biting the scientist and infecting him with the virus. It's only a matter of time before he turns and once he does, the virus spreads exponentially until all mankind is threatened.
But what if it were to happen in a different way? What if it wasn't humans that were infected, but smaller garden creatures that were able to remain hidden? The infection would start to spread from garden to garden under our very noses, below our line of sight.
Before we knew it, the shrubbery would be overrun and they would start to come out of hiding looking for food.
Well, it's happened! Take a look at these zombie apocalypse garden gnomes.  The best evil garden gnomes for sale are here.
PS –  Halloween isn't far off.  Why not get a halloween gnome to go with the pumpkin?
PS2 – My collection looks at Zombie Garden Gnomes in the UK.
===> Click here to see Zombie Garden Gnomes in the USA <===
Zombie Walking Dead Gnome Statue
This guy is the real zombie deal. Somehow infected he now roams your property looking for non-infected gnomes to prey on.
Traditionally gnome in his red cap, belt, britches and boots, there the similarity to the norm ends. Covered in blood that is soaked into his bear and covers his clothes, his eyes are solid white and don't seem to be able to see. His feet turn in as he shambles about looking for food. He is without doubt a killer gnome.
Keep your other guys away!  This zombie is dangerous.
This is a handcrafted, weather resistant ornament, made of terracotta (terror cotta?).
He measures 28.5 x 10 x 11.5 and would make a great gift for the collector.
===> Get one for a not-scary price by clicking here!  <=====
Thumbs Up Crawler Zombie Garden Ornaments
If you are looking for a scary garden gnome at an extremely economic price, this is the one for you. Currently under £11, this is a great way to add a zombie dimension to yourcollection.
This zombie ornament is of the lying down varieties, as if its legs have been damaged or the zombie virus has affected them and made them useless.
Covered in blood, it drags its legs behind it, its eyes looking up at you and glowing creepily in the dark.
Made from handcrafted terracotta and painted in weather resistant paint, this creepy garden gnome measures 23L x 12.5w x 14h.  Add him to you zombie garden gnome set today.
===> To get one for the actual current best price, click here <===
Creepy Zombie Garden Gnome
This is a great looking creepy garden gnome with its wild staring eyes, blood stained beard and long figures reaching out to grab its victim.
At the time of writing this review it was under £13 so, again, a very economical gnome.  You can get zombie gnomes cheap if you look around.
Customers who bought it generally loved it (4.8 stars from 6 reviews) and reviewers commented that it was bigger than they expected, and certainly bigger than some of their other zombie garden gnomes. In fact it is 40.8 x 19 x 14.6 cm and 40cm is a good height for a gnome.
The only negative was that it was a bit light and we think this is because it was actually intended to be a prop to go with a halloween costume. But some people who bought it liked it so much, they just added some ballast to it. One person actually drilled a hole and filled it with concrete!
===> Get one for a not-scary price by clicking here! <===
Cemetary Skeleton Gnomes
I LOVE these two!
Zombie-like graveyard garden gnomes who have pledged to stay together for all eternity and long after they have left normal gnome life.
They make a lovely couple, with their red gnome hats and coloured clogs. Pity about the knobbly skeleton knees, legs and ribs and the darkened eye sockets. Her plaited gnome hair and his long white bushy beard remain as a reminder oh how they were once.
Together they clutch an overflowing pint of good looking beer. Perhaps it's a gnome oktoberfest or halloween?
Built to last, these collectible gnome statues have been hand cast using crushed stone mixed with a durable designer resin.
Hand painted in weathered coloured paints that are resistant to UV light they will stay looking good for longer.
Measuring 21.5cm wide x 15cm deep and 38cm tall, these striking figures will look good wherever you put them. If you or someone you know has a home bar, they would make a great present to add a creepy gnome quality to it.
===> Click to see more and find out the current great price <===
Design Toscano Zombie Garden Gnomes
When the zombie apocalypse happens, not even gnomes are going to come out of it unscathed. They will only be able to survive if they join the ranks of the living dead and feast on the brains of those who have not yet succumbed!
This macabre zombie ornament is meticulously detailed in quality designer resin. Clearly having joined the living dead, he now rises out of the ground with arms extended as if to try to grab your ankles and start gnawing on them.
Hand painted and made for Design Toccano, this guy measures approx 29cm wide x 26cm high x 20cm deep.
Design Toscano is an American business that began in 1990 with a range of gargoyle replicas but has now extended to a massive range of historical and antique replicas. At some stage along the way, they introduced zombies. They pride themselves on high quality and attention to detail and it shows in this great zombie ornament.
This is an unique garden collectible and will cause gasps of amazement from visitors to your garden every time.
Click below to see more and buy for a good price.  ** Update 14 Aug 16.  For some reason this scary gnome has shot up to a very scary price.  Click only if you have no fear of high prices!!!
===> Click here for a scarily priced gnome <===
Fairy Garden teeny Zombie Garden Gnomes
If you fancy adding a bit of macabre to your fairy garden, or a shelf or tabletop in your home, then  these three ghoulish gnomes are just the thing.
Two men and a woman, they are spattered in blood and have that vacant zombie look about them.  Armless and barefoot, they shamble about your fairy garden looking for gnomes and fairies that haven't succumbed to the disease.
Teeny tiny, they measure 1.5cm x 6.4cm x 3 cm and come at a teeny price you and the owner of the fairy garden will love.
===> Click here to find out about the fairy garden zombie gnomes. <===
The Great Gnome Massacre
We looked for plants vs zombies garden gnomes to add to the page but couldn't see any.
But then, hey, we had a thought!
What if it was the other way round? What if something HUGE was hunting down and killing garden gnomes?
And, what if the ornaments were all infected by a zombie virus and a massive T-rex who absolutely hates them came to the rescue of humanity and saved us?
We googled it and, unbelievably, a manufacturer had EXACTLY the same thought and came up with this very unusual outdoor ornament.
The Great Massacre is 9 inches tall and 5 inches wide at the base. It depicts a grim future – or grim past, we're not quite sure – and would make a fantastic impression on any lawn.
===> Click here to see more details and buy this knome at a great price <===
Detroit Red Wings NHL Zombie Figurine
I wasn't sure what to make of this guy before I realised he was an American NHL themed gnome.
But he is seriously creepy and scary with his green skin and bug eyes. The ripped trousers and large green zombie foot finishes off the scare.
A green, withered hand reaches for you and you just have to run……!
===> Click to see him here <===
So that's the collection. I hope you see one you like but if you don't,
click here to see some more fabulous examples.
If you've decided not to get a zombie, check out the  rude, or funny or large garden gnomes.
I hope you enjoyed my Zombie Garden Gnomes. As always, let us know what you think of the page. We'd love to hear from you.
Zombie gnomes gone but nor forgotten………
These guys seem to have been out of stock for quite a while but you never know.
If you like the look of one, take a chance and click the link.  You might get lucky!
Creepy Halloween Zombie Garden Statue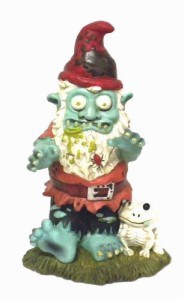 We've seen loads of zombie garden gnomes. We thought ourselves hardened to the image of a happy guy turned into one on the living dead. But this is a seriously creepy garden gnome.  He is a star amongst zombie gnome lawn ornaments.
We're not sure if it's the weird green colour (what colour do they turn into when they have become zombies, we don't think there is a definitive guide on the exact colour), the staring eyes or the fact that he seems to be singling you out for attention and making his way towards you!
Or perhaps it's his creepy skeleton frog pal? We've not seen one of those before which is the final reason why we think this is a seriously unusual and very collectible zombie gnome.
This ornament is made of resin and is handpainted. Size is 11 1/2 high x 7 wide x 3 deep.
Click here to see more details and get him for a scary price.