Note : If you click a link on this page and make a purchase, I may receive a commission but it won't cost you any more. See my disclosure notes
here
.
Welcome to my solar garden gnomes collection.
I don't about you, but in the Summer I love it when I have a day in the garden with friends and family.
We often have some food and drinks in the afternoon, and then a simple barbeque tea.
As it starts to get dark, we light the firepit which is a real delight, and absolutely everybody seems to enjoy it.
If you don't know about firepits, see a selection of great firepits here. They're really good, I promise you.
And then, as it starts to get darker, one by one the solar powered items in my garden start to light up. We have some green tree lights, pink lights around the summer house and a number of gnomes that come to light. Everybody there loves them and we all have a really great day.
So in addition to my large garden gnome collection and the funny garden gnome collection, here is my solar garden gnomes collection.
PS – My collection lists Solar Garden Gnomes in the UK.
Click here to see the very best solar garden gnomes amazon USA has to offer.
Solar Powered Tree House LED Garden Ornament Patio Outdoor Decoration Lighting
This beautifully made tree house would look great anywhere in your garden. Just make sure you put it where it will be seen by visitors because everyone will love it.
If you leave it somwhere in the garden where it will be exposed to sunlight, it will charge up during the day and come to life as it gets dark.
Lights will shine from the small lanterns placed next to the front door and also from each of the windows.
The ornament is styled with a carved wooden effect and the house is surrounded by colourful flowers and even has a gnome clinging to the side!
Made of polyresin and measuring about 29 x 29 x 31, it also has an on/off button if you don't want to use it for ant period.
Only two reviews, but both 5 star! Both reviewers mentioned quick delivery, great service and good value for money.
Click the button below to get one for yourself at a great price
Garden Gnome with Solar Powered Lamp Post
By day this gnome cheerily sits and welcomes your visitors in a quiet part of your garden.
Dressed in a green tunic, red cap, yellow trousers and sporting a very happy smile, he climbs the lamppost to show them the welcome sign he has made and mounted on the post.
But of course, it gets difficult to see the sign at night when it gets dark. So this guy has solved the problem by putting the sign under a proper functioning street light.
The battery inside the lamp charges up by solar power during the day and automatically comes on at dusk, allowing him to read, and yo to delight at the beautiful lights in your garden.
The ornament is weatherproof, has some simple assembly and measures approx 45cm tall.
A great addition to your solar gnome collection, click the button below to get one.
Solar Garden Gnomes Planter with butterflies
This particular gnome is unusual in that whereas many of the others are quite small, he's a big guy. He also has a use as a planter.
Traditionally gnome in design, he wears quite dull coloured clothes but brightens everything up with a massive smile.
In his hand is a watering can and at his feet is a large plant pot which you can use to grow beautiful flowers. Just be sure not to obscure his happy face!
About his body are 3 butterflies which light up automatically once it gets dark.
Measuring 26.5cm long x 24 cm wide x 42cm tall, he would look great in your garden.
There was only one review, but it was 5 stars. The lady reviewer thought he was very cute and well worth the money. She highly recommended him.
Click below to check him out.
Solar Powered Reading Garden Gnome
I love this little guy because he is so unusual.
On first glance he is a regular gnome, wearing a blue tunic, black wellies, red cap and sporting a big bushy white beard. Open in front of him are a couple of hefty tomes, proving he is a gnome that likes to read.
However, as the sun sets at night, his EYES LIGHT UP!!  He is a solar garden gnome!
Solar cells charge up during the day from the sun and will keep his eye burning brightly for up to six hours once it gets dark.
This collectable garden ornament measures 25cm wide x 19cm deep and 19cm tall and weighs about 1.5kg. He is handpainted and made from a durable resin-stone. He is fully resistant to UV light and frost and would look great anywhere in your home or garden.
Only one review, but five stars! The reviewer bought it as a present and the receiver really likes it.
Click below to get one for a very reasonable price.
Garden Gnomes Solar Light Ornament Bird feeder
This delightful garden ornament statue is both a gnome ornament and a bird feeder.
Two rascally looking gnomes fight playfully to climb up onto the top of the feeder to see the light. They both laugh, enjoying the play.
The solar light on the top of the ornament charges the battery during the day and lights up in the night. It provides a little glow to a small part of your garden and looks good for anyone visiting.
Measures about 26cm tall and is about 21cm at the widest point.
Would make a great present for any gnome fan or someone who loves their garden. It could even be displayed in a conservatory or the balcony of an apartment.
Click the green button below to find out more and see the very reasonable price.
Solar Powered Cheeky Garden Gnome With Light-Up Bottom
You can easily add some cheeky humour to your garden with this very cheeky gnome.
By day he is a regular garden ornament, yellow cap, green tunic, black wellies and red britches.
However, at night, the cunningly disguised Ultra bright LED in his bottom lights up, having been charged up by the sunlight during the day. The light even changes colour, lighting your way down the garden.
There is a little assembly once he arrives and he can be installed anywhere he will catch the sunlight.  Save yourself a fortune on batteries with his solar panel.
Guaranteed to make any visitor smile, particular if they visit after dark.
Click below to check him out.
If there aren't any solar gnomes here you like, click here to see the full range.
Solar Garden Gnomes Gone but not forgotten
Sometimes solar garden ornaments I really like go out of stock and don't seem to reappear.
But it seems a real pity to abandon them so I move them to this area.  If you like them, take a chance and click the button.  If you get lucky, they are back in stock, hurrah!  Get lucky!
Solar Garden Gnomes with Saw LED Light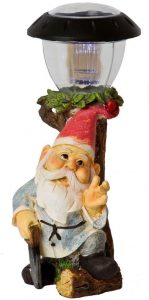 Add decoration to your garden with these beautifully designed Solar Powered Gnome Ornament Lights.
This busy gardening gnome has been designed with impressive fine detailing, intricately crafted and painted with care.
Traditional in design, he wears a white tunic with a red cap and fantastically bushy beard. His saw is evidence of hard work in the garden.
The top of the gnome has a solar panel which will collect energy from the sun during the day. At night they lights will automatically glow when it gets dark, passing light to your patio and garden.
Environmentally friendly, the lights use renewable energy from the sun and don't give you the hassle of having to replace them.
There is an on/off switch in case you don't want to use the light at any times. Aproximate size 30cm high x 10cm wide x 11cm deep.
This gnome comes packed in a fancy box and so would make a great present for any gardeners you know.
Large Garden Gnome – With Solar Powered Colour Changing Lamp Post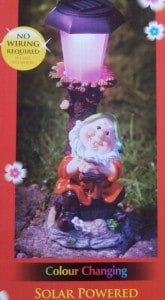 This garden ornament is about 28cm tall and comes with a lamp-post that has a light that changes colour.
Solar powered, it charges a rechargeable AA battery which people who have actually bought the product say lasts all night.
Note that there are actually three different colours to choose from and my link goes to a particular one. It may be worth looking for the other colours once you are there.
Click below to look closer at this large gnome statue.
Solar Powered Garden Fairy Figurine Spot Light with Amber LED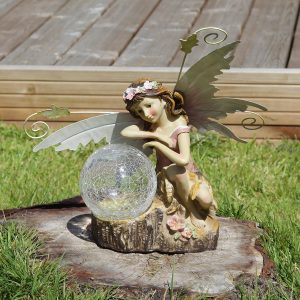 The final item in my collection of solar garden gnomes isn't a gnome at all, but a Fairy – shock, horror!
But when I saw her I couldn't resist adding her to the collection.
She is exquisitely designed and detailed and brings a touch of fairy sparkle to any part of the garden or home where you may care to place her.
During the day you can enjoy her simple beauty but at night her glass orb lights up with an Amber LED, casting a beautiful yellow glow over both the fairy and the surrounding garden.
Perfect to place in rockeries, borders, flowerbeds or just about anywhere in the house or garden.
There are seven reviews with an average rating of 4.6 out of five. Most reviewers were very pleased with the fairies pretty design and thought she was stunning at night. One bought it for her daughter's fairy garden and another uses it in a bedroom as a night light while their child falls asleep.
Click below to get this fairy garden ornament.
Solar Garden Gnomes 3 pack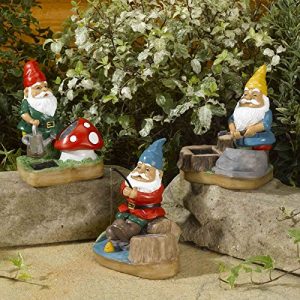 These three bright and colourful gnomes would look great in any garden.
One dressed in a red coat with a blue cap happily fishes in the pond. Another dressed an blue with a yellow cap chops wood and the third happy guy wears a green tunic with a traditional red cap and carries a watering can.
Made of resin and measuring 13cm high x 12 cm wide, each garden ornament features a white LED spotlight within its statue. If you place them in direct sunlight it will charge up with rechargeable batteries during the day.
Then at night, they will automatically light up and stay lit for up to about 6 hours.
They also have an on/off switch so you can turn them off over the winter if you pack them away.
There were only two reviews, but both 5 star, saying they were cute, well made and looked great in the garden. One mentioned excellent service.
Click below to get these delightful garden ornaments.
I hope you liked my collection of solar garden gnomes. Leave a comment either way so I can help future visitors
I'd be really pleased to hear from you.
You can also see my ranges of zombie, funny, large and football garden gnomes here.
If you have any suggestions for other gnome collections you might like to see here, leave me a comment and I'll research it for you.