Why not consider rude garden gnomes, if you don't want a funny garden gnome or a zombie gnome?
Welcome to naughty gnomes UK!
Rude means different things to different people. What does rude mean to you?
I looked it up in a dictionary and it gave three main meanings in the context we are using:
Deliberately discourteous or impolite
Without culture, learning or refinement
Rough in manners, uncouth, uses rough behaviour
For reasons I don't quite understand, it has become a fashion to display rude ornaments that fit one or more of these descriptors.
You can buy offensive, flashing, and cheeky gnomes and others which are either obscene, inappropriate, or both.
Let's have a look at some.  But I must warn you – there are some real dirty garden gnomes here!
PS.  Mooning garden gnomes deserve a whole section to themselves so they are listed under the others.  Scroll down to see them too.
PS2 – My collections focus on Rude Garden Gnomes in the UK.
—-> See Rude Garden Gnomes in the USA by clicking here
Flashing Rude Garden Gnome
We know that there are certain people in society who like to share their private parts with other members of society, whether they want them to or not.
Well, it's exactly the same in the gnome world. Certain of them just can't keep their emotions in check and they just want to share.
This guy is one of those. Otherwise traditional, this guy has done away with his shirt, belts and britches and instead donned a dressing gown which has been thrown wide open and is offering 'Say hello to my little friend'!
Luckily you can't see his bits as he's still wearing his boxers but they look a bit lumpy. It looks like he's pretty excited to see you. I think he must work in construction as he has clearly been working on some sort of erection! His goofy face just smiles up at you.
If size matters to you, he is approx 15 x 19 x 27cm.
An ideal gift gag for anyone who collects unusual ornaments.
===> Click here to see this Flashing garden gnome <===
I'm sorry but some of the gnomes are going in and out of stock.
If you want to see a full selection currently in stock, please click here
Very Rude Garden Gnome showing off
Okay, this gnome in my garden gnome collection is a very rude garden gnome indeed.
He is the one who would be walking around the changing room at the gym without a towel, proudly showing off his prize appendage!
Traditional in style, this lecherous gnome has a bushy white beard, red cap, bright green jacket and brown britches.
He pushes before him a wheelbarrow that carries his – lets not beat about the bush! – large willy.
Made of weatherproof and unbreakable PVC, this garden ornament has two layers of varnish to protect him from the weather and keep him looking good for longer.  (The varnish complies with DIN EN 71 which is harmless for children)
Made in Germany he is an eye catching addition to the gnomes in your garden.
But are you brave enough to buy and display him?

Rude Wall Hanging Gnome Plaque
With this great garden gnome wall plaque, you can be rude to visitors and passers-by even if you haven't got a garden!
A grumpy looking fellow hangs out of his window, flipping the finger to anyone who happens to go past.
With his luxurious bushy white beard, red cap and blue jacket, he frowns harshly out and extends his middle finger. There's absolutely no doubt as to his message.
Even his pet squirrel looks fierce and aggressive!
The large wording "Go Away" printed on his windowsill completes the picture.
This unusual gnome wall plaque is made from hardened polyresin and fibreglass. He has been painted and polished by hand and has a coating to protect him from the weather.
It measures approximately 9″ high x 7″ wide and 2.5″ deep. It's not very heavy at about ywo pounds in weight and you can hang it from a single screw. Just test the screw to make sure it can take it before you hang it.
It would make a great gift for a gnome lover, or anyone who basically just doesn't like people! Start a conversation today by clicking the button below to find out more details.

Go Away Rude Garden Gnomes
This is an offensive garden gnome of the first class.
This naughty garden gnome looks like a traditional gnome. He has a red cap, thick black belt around his shirt and black wellies. From a distance and without too much scrutiny he could pass for a regular guy.
However, get close enough and there are signs of discord there! He is, in fact, quite angry and doesn't want you there.
His face is contorted with rage, his lips curled into a snarl and his middle finger is firmly extended in a 'go away' fashion. He even has a sign that says go away. He is a swearing garden gnome who is silent!
Weatherproof, he is made of resin and stands about 9.5 inches tall. Point him at any neighbours you don't like or move him about to suit.
Click below to get this rude guy.  He sells for a very reasonable price.

I'm sorry but some of the gnomes are going in and out of stock.
If you want to see a full selection currently in stock, please click here
Large Nude Gnome wearing blue hat (and not much else!)
If you have a devil may care attitude to life and don't mind taking a risk in your garden, this large nude garden gnome is just the thing for you.
Totally exhibitionist, this guy is wearing a blue hat, sunglasses, red flip flops and a big smile. In his hand is a beer, which may account for his lack of embarrasment.
Made of durable plastic resin, this brightly couloured gnome is sure to bring a smile to anyone visiting your garden. But keep him away from your gran.
And please make sure you apply a high factor sunscreen at regular intervals during the day. You wouldn't want sunburn there!
Click below to see more details about this great naked gnome and the best current price.

Nibble My Bits Rude Garden Gnome Bird Feeder
Not quite as rude as some of the other exhibits, this novelty ornament relies more on double-entendre than actually in-your-face rude activity.
Now, your average gnome spends their time serenely hanging around the garden, this naughty fella wanders around in his extremely baggy trousers trying to get birds to nibble his nuts. That's if his owner has put nuts in, otherwise he could be touting millet or sunflower seeds.
You see, our brightly coloured terracotta friend has trousers baggy at the front so they can be filled with birdseed to help feed our little feathered friends all year round.  This great nibble my nuts gnome is an environmental delight.
He is approximately 24 x 11 x 10cm in size and has a hole in his back so you can hang him from a post instead of him hanging around on the floor.
Click below for more details and to get this naughty gnome for a very reasonable price.

Gnome on a Throne Rude Garden Gnome
This gnome falls clearly into the inappropriate category.
But why is it inappropriate, really? Even gnomes need to go.
The problem is that he's going in the middle of your lawn, out in the open.
And of course, what else would he do on the throne but read his paper, just like we ll do? No point in wasting time, is there? Or being bored? Might as well be entertained while you're sitting eh?
Click below to get one today.

6 piece mini Rude Garden gnomes Set
If you fancy having a load of nude garden gnomes in your home or garden, then check out this lot!
This is a set of 6 small decorative garden gnomes, each about 5.5cm long.
Every one of them is lying back and enjoying the sun.
The men are buck naked except for hats and flip flops and the ladies are all topless and wearing thongs.
They are all enjoying a drink of some sort in the blazing sun.
This great set would look really good as a little montage in your garden, conservatory or even on shelves in the house.
Click on the button below to check out the latest price (which is almost as small as the gnomes)

Dominatrix Lady Garden Gnome
This is a rude lady gnome with a dark twist.
Dressed in what appears to a black leather topless and backless dress, she would be a striking addition to any garden.
Still wearing a traditional red cap, she very not traditionally bares her breasts in a brazen fashion, her eyes narrowing as the thinks about how she would like to treat you.
She is about 30cm tall and made of silicone and for reasons I don't understand, referred to as Mrs Wally.
Add her to your garden gnome collection to give all your neighbours something to talk about.
Only two reviews but one 5 star and one 4 star, so good reviews.
Click below to get her for a great price.

Nude Sunbathing Gnomes
I hesitated before adding in these two blatant exhibitionists into the collection, I really did!
The post is all about rude garden gnomes and these two are surely two of the rudest you will ever see in a garden.
They come from a land where, I suppose, they may have a more liberal attitude to naturism and letting it all hang out.
They are both bright and full of character.
Both are made of plastic and are about 26cm long.
Lie them down in your garden if you dare and see if anyone notices. See how many comments you get about them!
Bare Buttocks Garden Gnome
This delighful garden gnome statue offers an extremely unusual gnome welcome to all the visitors to your property.
Wearing a bright red tunic and gnome hat, he smiles a delightful smile as he goes about his wicked ways.
Individually hand painted one piece at a time, his pink buttocks are displayed for all to see.
His massive feet keep him steady and a blue bird happily pecks his bum.
Measuring 19cm x 15cm x 20.5cm, this great garden ornament is hand cast in exclusive quality designer resin.
Designed by the Design Toscano design team, a great gift for any gnome lover at about £15.
Click below to get one.

Rude Garden Goblin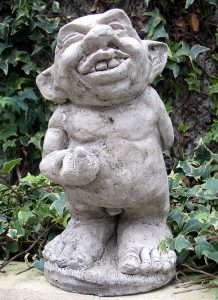 This Goblin is both rude and naked!
Defiant and smiling he sticks his middle finger up in a very rude gesture.
His other hand is firmly behind his back so you can only guess what he's doing with that.
He smirks as he looks at you like he just doesn't care what you think of him.
No doubt many people would find this rude garden ornament offensive and it probably wouldn't make a great gift for your maiden aunt.
Unless, of course, she listens to Motorhead and swears like a trooper.
Made from frostproof stoneware, he is good to stay outside all year long and he measures about seven inches tall.
Click below to make him yours.

Stinky the Garden Gnome by Design Toscano
This cheeky gnome has, to put it gently, broken wind.
All around him people are asking who cut the gnome cheese?
However, one look at this naughty gnome with his trousers round his ankles, his bottom bared and pointed East and his fingers pinching his nose, and you know exactly who it was.
Design Toscano gnomes are always getting into trouble.
Their gnomes will always extend a friendly welcome to your visitors and hopefully give them a little smile.
This rude gnome is hand cast using quality designer resin mixed with real crushed stone. He is individually hand painted by an artist and is suitable for both your garden and home.
He measures 14cm wide x 12.5cm deep x 24cm tall and would would make a great gnome gift for the garden gnome enthusiast.

We hope you enjoyed our collection of rude garden gnomes. If there was nothing there that you fancied, please click below to see more.
—-> Click here to see the range of rude garden gnomes
Mooning Garden Gnomes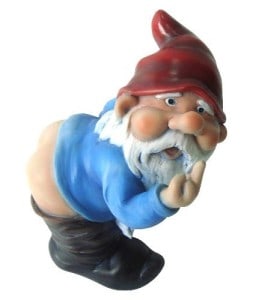 Mooning – the act of baring one's backside to another as an insult – has been around for longer than you might think.
Wikipedia claims the first incident of mooning was in 1AD, in reports of a war at that time that a Roman soldier bared his rear and started a massive riot, but in reality he was probably just 'passing wind in their direction!'
There was further mentions of mooning in the Middle Ages during the Crusades, then again through the years until modern times. There is even a trend called the Annual Mooning of Amtrak in California where people spend the day mooning at passing Amtrak trains.
There is evidence of mooning in the Braveheart film and then again in the Pixar movie Brave. (Is there a Scottish connection there somewhere?)
I'm not sure of the background, but there has also grown up a culture of mooning garden gnomes where they smile happily while bending over with their trousers at half mast and their moon-like buttocks shining brightly in the daylight.
I salute and highlight them in this post. If you are looking for mooning garden gnomes for sale, you're in the right place.
I'm sorry but some of the gnomes are going in and out of stock.
If you want to see a full selection currently in stock, please click here
Cheeky Mooning Garden Gnome Ornament (Yellow Hat)
This smiling mooning garden gnome stands with trousers at half mast and happily smiles as he shows you his bare bum.
Brightly coloured, this ceramic ornament is available in three different colours, although the link below takes you specifically to the one with the orange hat. You would need to click on the link and then search for the other two who have either a yellow hat or a green hat.
Either way, this cheeky garden guy will brighten up your shrubbery and give visitors something to talk about.
Check him out by clicking on the button below.

Little Richard Mooning Garden Gnome
The mooning garden gnome is handmade by Pixieland in Dartmoor who have been making gnomes for nearly 70 years.
Made from concrete, this figure is handpainted using acrylic paints meant for outdoors which means he will stay bright for many years.
The most worrying thing was that in the picture he appears to be wearing a thong!
One user who had bought one reviewed it and declared him a great little fellow, that delivery was good and you could order with confidence.
Click below to see the great online price.

If none of these mooners are to your taste, click to see the full selection here.
Rude Garden Gnomes Gone but not Forgotten…….
The magnificent gnomes below no longer seem to be available……sad face!
I'll keep an eye out for them and if they come back into stock, I'll add them back in.
Fornicating Garden Gnomes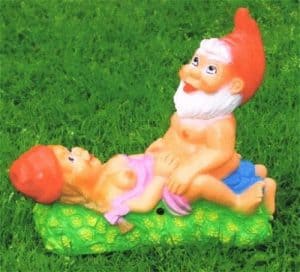 I'm sorry if this is a bit shocking but I just had to add these extremely naughty garden gnomes to the collection.  I couldn't help myself – they are just so naughty.
This is a gnome couple casting all caution to the wind and enjoying a little al fresco lovemaking.  Until today, I've never ever thought about how baby gnomes happen!
The picture says it all and there is very little else in the way of description so you would have to buy it on spec without many details.
The details I have about the ornament are a bit vague:
Outside garden figure.
Hold a in the base via stick possible, not included.
Weather-resistant and shock-proof.
The voice can be turned off; can be used outside (oh no, does it make noises??!!)
The garden figure has a motion sensor that picks up any movement within an approx. 2 m radius
They are also a bit pricey, but click below if you absolutely have to have the rudest gnomes you have ever seen in YOUR garden. What would the neighbours say?

Mooning Gnome Cookie Jar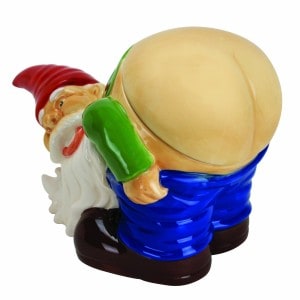 If you've had enough of rude outdoor ornaments, why not get one meant for indoors?
This mooning gnome cookie jar would make a great present for any self respecting enthusiast.
The hilarious ceramic container with hand painted details smiles happily as he sticks out his enormous butt. Pull off his bum and reach inside for a cookie. He has a rubber gasket for freshness so your cookies will stay crisp and won't get soggy.
Just imagine the scene as you offer the vicar a biscuit from this bad boy.
Click the green button below to find out more.

Merry Drunk Garden Goblin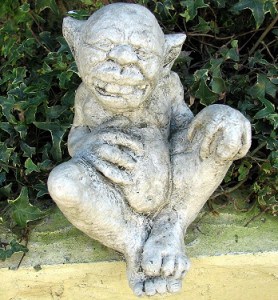 I thought a drunk garden gnome would be quite rude but I couldn't find one.
Instead I found a drunk garden goblin.
This Goblin definitely looks drunk, but happy drunk, not grumpy drunk. He's probably had a few beers on a warm day and is sitting down with a hand on his belly and another on his knee, tongue sticking out.
This fantastic statue is nine inches tall and, at 5kgs, is quite heavy. Made in Cornwall from frostproof concrete stoneware, this drunk statue can come unpainted or painted. Just let the vendor know when you order.

Solar Mooning Garden Gnome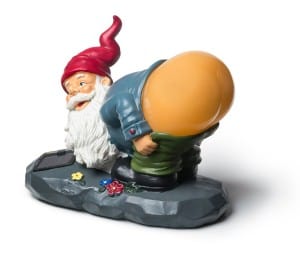 This is quite a naughty guy. His trousers are not slightly down, but fully down and his massive rear end is presented to visitors.
That's because his rear end houses a bulb and lights up when it gets dark.
The rechargeable batteries charge up during the day and his butt shines bright at night.
Five inches tall and made of resin, this offensive fella is actually quite funny and would make a great gag gift.

Rude Goblin Bogies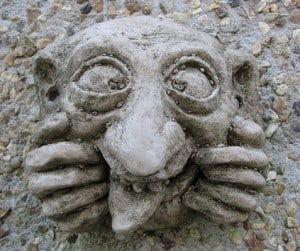 My final item is not a gnome at all but a set of rude ornaments.
In researching rude gnomes, we came across this collection of three rude bogie goblins.
Handmade in Cornwall, each bogie goblin face is 5 inches high and has a wall hangar on the back for easy mounting.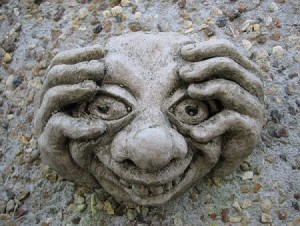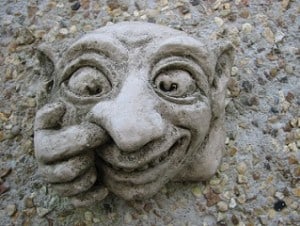 Made in frost-proof stoneware, they are handpainted and finished to resemble worn or old stone.
These quirky ornaments would make a fabulous complement to the gnomes on your property.
Click the green button to see more details.

Mooning Garden Naughty Gnome Solar Glow Light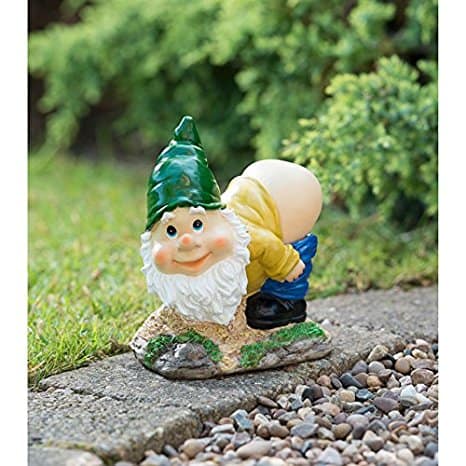 This may be an wrong garden gnome but he doesn't mean it! All he wants to do is light up the path for you to get home safely.
When night falls, his butt lights up with a different kind of moonlight!
But you can't deny the effect, or that this fabulous ornament does in fact provide a great talking point for your neighbours and visitors.
Click below to see more (details that is, not butt!)

Middle Finger Mooning Garden Gnome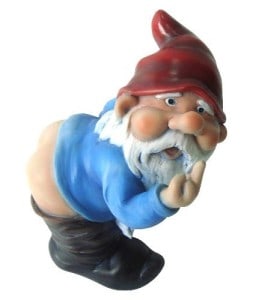 This guy manages to offend on several different levels.
Not only is he a mooning garden gnome, he is also quite offensive.
This 8 inch tall character comes in various colours and is made from polyresin. Hand painted with outdoor paint, you can expect him to stay bright for years to come, which is more than can be said for his attitude.
Grumpy to the core, he wants to offend by both baring his backside and flipping passers-by the middle finger. Get the community spirit and get the neighbours talking.
Click the button below for more gory details.

Use the contact form to let us know what you think of our mooning garden gnomes.
Click here to see our collection of funny,or click here to see the Zombies.
Our Large garden gnomes are here.
We hope you like them.