Note : If you click a link on this page and make a purchase, I may receive a commission but it won't cost you any more. See my disclosure notes
here
.
Outdoor Fairy Garden Houses – An Introduction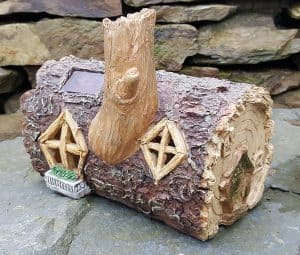 Outdoor fairy garden houses are one of the key things to have in your garden if you want attract fairies into it.
The other thing you must have is a fairy door which acts as a portal between their world and ours.
Outdoor garden fairy houses are small structures built with love by the inhabitant of the main house.  They do this so that the fairies they attract into their garden will have somewhere to live and stay.
Some families might make large fairy garden houses, almost mansions.  Others might make a miniature garden fairy house for a single fairy visitor to live in.
Sometimes they are actual houses which go on the ground and sometimes they are fairy tree houses.
Making an outdoor fairy garden houses allows children an opportunity to go outside and connect with the garden world.  This helps to generate within them a care for the environment and a respect for its protection.
However, it's a fairly big job to build a garden fairy house! You need to think about how it would look and perhaps even draw it.  Then decide on the materials you would use and go out and find them. Not every family has the time or creative talent to work it all out and create a fairy garden house that would actually work.
So if you haven't got the time or the talent, you can buy one ready made.  Put your effort into deciding the best place to put it, and what things you want around it. With the love you put into it, you can still attract a fairy into your garden even if you haven't made it yourself.
I have looked across the internet for the best fairy garden houses cheap to buy yet still great quality and my selection is below.
By the way, my selection focuses on outdoor fairy garden houses in the UK.
If you are a USA resident and want an outdoor fairy garden house in the USA, click here to see a great selection
PS Many of our outdoor fairy garden houses are solar fairy houses……
Garden Glows Fairy Garden Tree house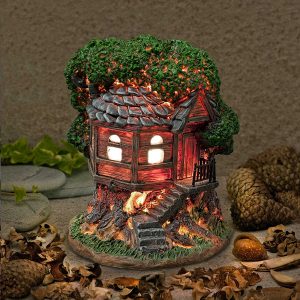 You can create a magical fairy corner in your home with this delightful HOME OF FEATHER HEARTFLY fairy house.
This whimsical LED solar powered fairy tree house is suitable for either indoor or outdoor use and would surely look lovely in most gardens, windowsills or conservatory.
This garden ornament claims to be the home of Heather Heartfly, a mythical fairy creature of whom no photos have been taken.
It is clearly a garden fairy house of quality and is exquisitely designed with fantastic detail.
In the shape of a treehouse with a balcony, the roof is surrounded by the canopy of a tree. It also features little windows and they allow the solar powered led inside to shine out at nighttime.
This fairy treehouse is made of resin and has three warm white led lights inside which are powered by a rechargeable AA battery, itself charged by a small solar panel on the back.
This garden fairy house will arrive in an attractive box and includes information about the mythical Heather Heartfly. Full instructions are included on how to use it.
Measuring 14.5cm high x 11.5cm wide x 12cm deep, this garden ornament would make a great gift for anyone interested in fairies. Get this ornament for a good price by clicking below.
==> Click here to check out the Garden Glows outdoor fairy garden house
By the way, the manufacturer of this fairy house has a whole range of similar delightful houses.
===> Click here to check out the Garden Glows outdoor fairy garden house range
Colour Changing Fairy House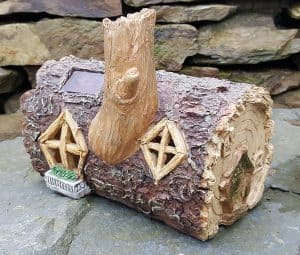 This solar powered fairy Log House can be set up in the garden or somewhere in your house where you want a little magical fairy stuff going on.
If you are looking for wooden fairy garden houses, this could be just what you are looking for.
By day it is a lovely log home for a resident or visiting fairy.
But at night it comes into its own by creating a beautiful light show you'll just want to stare at all night.
It has little windowns – naturally or the fairies wouldn't be able to see out – and the light glows softly out of those windows to give a lovely colour effect in your garden or home. Colours it uses are Purple, Pink, Yellow, Blue, Orange and Green.
The fairy house lights are powered up during the day by a small solar panel to a built in rechargeable AA battery. As the natural light fades, it automatically turns on and strobes through interchanging colours.  Although these can be enjoyed by you, they would also be very attractive to a visiting fairy.
It is 22cm long x 16.5cm high x 12.5cm wide and genuinely looks and feels like a wooden log, with very effective details. It is relatively light but heavy enough for it not to move.
And it has little rubber feet to provide a good grip on the ground. The feet allow it to stand solidly on any flat area.
Currently going down well online, getting 4.5 out of 5 star ratings, this would be a great present for anyone digging the fairy scene!
===> Click here to get one for a great price or to find out more.
Solar Powered Illuminated Fairy House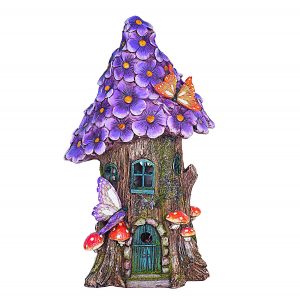 This brightly coloured fairy house will add a touch of fairy magic to any garden or conservatory. It could even form part of an indoor fairy garden for a lucky child or lover of fairy things.
Made in the likeness of a tree stump with very fine detail.  Bright red mushrooms grow around the lower parts and the roof is made of lovely purple flowers. Several beautiful butterflies have alighted on the roof and on lower down.
The front door has a portal and above it is a window that allows the internal lights to shine out at night.
The house contains three warm white leds which come on automatically at dusk. These will have been charged during the day by a small solar panel. The leds give off a lovely warm glow which shines out through the windows and door.  You can also see it dimly through the walls.
This fairy house is made from weatherproof resin so if you want you can leave it out in the garden all year round.
It measures 30cm tall x 15cm wide.
This is a very dainty fairy cottage which would grace any garden or indoor fairy garden.
===> Click here to find out more
Solar Powered Illuminated Fairy Yellow Cottage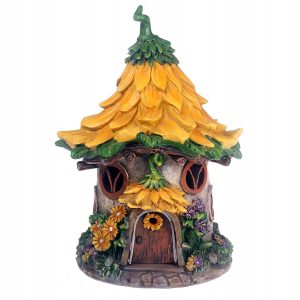 This pretty fairy cottage is made from weatherproof resin so it can be left outside all the time if you choose to put it in your garden.
It seems to have been built from an upturned flower pot and has a bold flower theme throughout.
There is a small flower on the front door and a flower canopy acts as a lightshade over the front door.  The entire roof is a bright yellow flower with its stalk at the center. Small yellow and purple flowers surround the front door.
It has warm white leds that come on automatically at dusk.  This gives the house a gentle glow from within through the windows and walls.
Made from weatherproof resin so will be good if left outside all year round.
29cm tall x 20cm wide.
===> Click here to see more of this great fairy dwelling which you can get for a great price.
Solar Fairy House Collection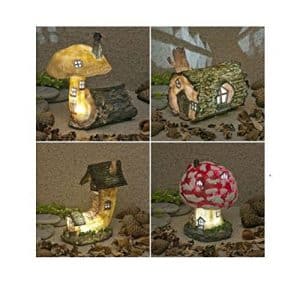 Instead of being happy with setting up a single outdoor fairy garden house, why not go one further and set up a whole village of outdoor fairy garden houses with these four different and delightful enchanted garden fairy houses. Or get them to enlarge an existing collection.
Firstly there is the Village Log Fairy House.
This is 22 cm high x 19cm wide x 14cm diameter.
Secondly there is the Log Fairy House
This is 18 cm high x 19cm long x 14cm deep.
Thirdly there is the Mushroom Fairy House.
This is 21 cm high x 16cm diameter.
Fourthly, there is the Boot fairy house.
This is 22 cm high x 15cm diameter.
These fairy houses are made from resin and are intricately detailed.
They contain three warm white led lights which come on automatically at dusk, powered by a rechargeable battery charged up by a solar panel.
Together, they create a great focal point in your garden or inside your house.
===> Get the set by clicking below.
Miniature Fairy Garden Tree House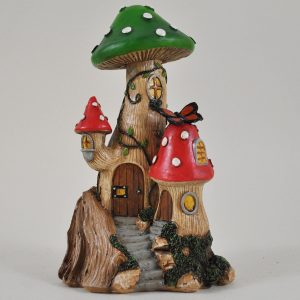 This miniature fairy garden mushroom treehouse would be a great addition to any self respecting fairy garden.
Although it's a miniature fairy garden ornament, at 15cm tall it's actually quite big. It is so tall because it's 'built' on a hill and needs a number of steps to allow you to access the front door.
Fashioned in the shape of a mushroom, there is a taller mushroom with a bright green cap that is the main house. The steps lead up to the front door which is a lovely brown colour.
Above the front door is a bedroom that stands out with its own little red cap and window looking out to the garden.
At the top of the stairs there is another smaller building and I'm not sure what it is. It can't be a garage so I'm assuming it's an outside loo. Still, that won't matter if your fairy garden is inside but it might be a little cool for the fairies if you arrange it in the garden!
It is made from polyresin so would be okay outside as well as inside.
Measuring 15cm high x 8cm wide x 8cm deep, this is a quality product, rich in detail that marks it out as an ideal present for any fairy lover building their fairy garden.
But perhaps fairies aren't your thing?  The other favourite garden ornament is gnomes, and I have plenty of those!
Click here for large garden gnomes, here for rude garden gnomes, here for solar garden gnomes and here for football garden gnomes.
It would be great to hear your thoughts on this post.
Please leave a comment or like us on Facebook if you enjoyed my outdoor fairy garden houses selections.