Note : If you click a link on this page and make a purchase, I may receive a commission but it won't cost you any more. See my disclosure notes
here
.
Miniature Fairy Garden Kits – what are they?
Miniature fairy gardens and miniature fairy garden accessories are very popular at the moment. If it's something you think you would like to try out, the easiest and best way to get started is to buy miniature fairy garden kits.
The trend for miniature fairy gardens began in America but it's growing in popularity here in the UK and it's easy to see why as they look so delightful when done well.
Miniatures fairy gardens create a magical corner of your garden or home that every visitor can't help but find beguiling.
Adults and children alike all feel the magic created by a lovingly arranged montage of a fairy garden. The tiny tables and chairs, animals, posts, flowers etc all have a level of detail that really captures the imagination and makes you smile.
For children they inspire pretend play and boost imagination, allowing them to imagine enchantment in their garden in the form of fairy visitors.
For adults miniature fairies gardens provide a hobby and a craft past-time, spending time arranging scenarios, then moving them about, adding new accessories and creating a whole miniature fairy world.
One of the great things about miniature fairy garden kits is that you can start small to try it out and then add to your collection by adding new kits. But, in truth, I think you'll quickly become hooked by it and it will become a hobby you really enjoy. You'll be searching the internet for new miniature fairy garden ideas.
One thing to point out, though, before we look at some great examples – this post looks at miniature fairy garden kits in the UK.
If you want to see miniature fairy garden kits in the USA, Click to see them here.

7 piece Miniature Fairy Garden Kit With Miniature Fairies & Accessories
It's hard to imagine placing the pieces in this miniature kit in your garden or home without feeling you're adding a little bit of fairy sparkle to it.
Allow your imagination full rein as you use these miniature fairy garden pieces in any container to make a beautiful scene for your home. Use them to create a special little fairy area in any corner of your home, or outside in the garden or on the patio. Use them indoors to bring magic to your child's bedroom windowsill or create a little fairy garden oasis on your desk.
The accessories in this miniature fairy garden kit are made from resin which will ensure they last a long time. They are lovingly handpainted making each item unlike any other. The paint used on them is UV resistant which will help the bright vibrant colours stay bright if you place them outside. Placing them inside will, of course, ensure they stay looking good forever.
There are seven pieces in this fairy garden kit:
The Flower Stump is 11x7x10.
The Standing Fairy is 8.5 tall
The Sitting Fairy with Bunny is 8.5 high
The Kneeling Fairy is 5.5 high
The boy lying down is 5.5 long and
The Mushrooms are 2.5 high
(all dimensions are in cm)
One interesting thing to note is that the people who make this lovely kit want you to get it in pristine condition. The set is lovingly and carefully packed in a custom cut Styrofoam container to protect each item. Even then, the makers guarantee to replace any item which is damaged during shipping and doesn't arrive to you in absolutely perfect condition.
This miniature fairy garden kit is delightful and would make an ideal gift for anyone with an interest in fairies and craft.
Click below to see more details and get a kit for a great price.
>> Click here to see more details

Miniature Fairy Garden Ornament Kit – 33 pieces
This 33 piece miniature fairy garden ornament kit would fit in a number of scenarios.
You could use them in a container mini garden in your house or conservatory, to create scenes in a terrarium or to bring a little fairy magic to a small part of your garden.
Use them to build a miniature fairy garden world in your home!
The package includes:
1 X Fairy Mushroom
1 X Rainbow
1 X Signpost with Bear
8 X ladybug
1 X Stone with Dragonfly
2 X Sheep
2 X Rabbit
2 X Chicken
2 X Elephant
1 X Basket
2 X Sea Turtle
1 X Blue Crushed Glass
2 X Duck
5 X Red Mushroom
1 X Chair
2 X Swan
You could use them to build a fairy garden with your children but please be aware that these parts are very small. They aren't really suitable for very young children and even slightly older children would need to be supervised. Stay aware and be safe!
Would make a great gift but comes in a plain box so be ready to spruce it up.
Click below to check it out.
See the Miniature Fairy Garden Ornament Kit

My Fairy Garden Fairy Garden
I thought I would include something for those of you who may have younger children. Sometimes younger children want an outdoor fairy garden house, but you maybe don't want them to spend a lot of time outdoors on their own.
It's a magical indoor fairy garden!
Younger children know that fairies do exist but it's just that they are not visible to everyone. They know that fairies love nature and love to spend time where flowers and plants grow.
You can entice fairies into your home by giving them an indoor fairy house and garden where they would love to live.
You can create a beautiful fairy garden home with this kit. There is an activity guide that will instruct you how to put everything together to create a lovely living garden for your fairies to live in.
The kit includes everything you need and you just need to put it all together with love, imagination and a sprinkling of the fairy dust provided.
Once you have built the garden and placed the little fairy house, the grass will grow and need tending, letting you take care of your fairy environment. You can then add your own individual decorations to truly make it your own.
At Amazon, this kit is the best selling item in craft kits for children and has earned an average 4.5 out of 5 stars over 420 reviews so you can bet it's a popular and well loved kit.
Click below to get for a great price.
See the indoor fairy garden house toy for children
My Fairy Garden Fairies & Friends
You can also get some fairies to live in your fairy garden if you want!
This pack contains three of the most adored fairies, Lily, Andrena and Heather, as well as their animal companions the frog, the hedgehog and the squirrel.
These three miniature fairy garden
fairies are handpainted and have beautiful details, making them very attractive to fairy lovers who may want to collect them.
===> They would go very well in your indoor fairy garden.
===> Click here to see the whole range of My Fairy Garden toys.
Miniature Fairy Garden Furniture Kit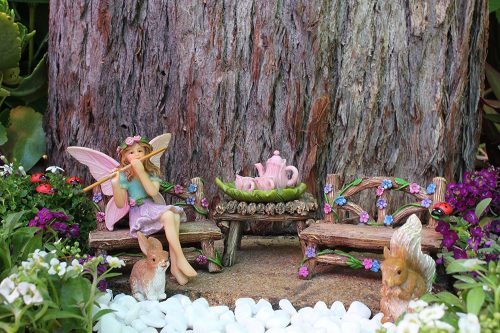 If you are looking for a miniature fairy garden furniture starter kit, this could be just the thing you are looking for.
Why not take this small 14 piece starter kit starring Fairy Bella and a cute rabbit and squirrel and create a magical mini garden scene somewhere in your home?
This kit is ideal for use either indoors or outdoors and would make a great present.
The garden furniture kit consists of :
Fairy Bella is About 6.35 High
The two Benches are 6.35 W x 4.32 H,
The End Table is 5.1 L x 3 H.
Tea Set
Rabbit
Squirrell
4 Ladybugs
Each item is made of durable resin and has been painted by hand with UV resistant paint. This will help keep the pieces looking good if you decide to put them outside. You could also spray them with a polyurethane spray to protect them if you wanted to.
It comes specially packed for protection in a custom styrofoam container and the makers promise to replace any items that are accidentally damaged in transit.
Again, please note some pieces are small and small children should be supervised at all times when playing with this set.
===> Click here button to find out more.
Miniature Fairy Garden Accessory Kit – 48 pieces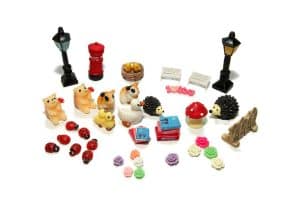 If you've already got your Fairy Garden House, then this best-selling accessory kit would be the perfect purchase to go with it.
48 beautifully made tiny ornaments, just ready to be lovingly placed in your fairy garden or fairy house.
The items included are:
1 * Mushroom (0.5″)
1 * Road Sign (2″)
1 * Love Sign (0.2″ * 0.8″)
1 * Postbox (0.6″ * 1.4″)
1 * Fence (1″)
1 * Birdnest (0.8″)
2 * Books (0.5″ * 0.4″)
2 * Hamsters (0.7″ * 0.8″)
2 * Hedgehogs (0.4″ – 0.8″)
2 * Streetlights (2.1″)
2 * Park Chairs (0.6″)
2 * Duck and babe (0.4″ – 0.8″)
2 * Sitting Hedgehogs (1″)
10 * Roses Color Random (0.3″ – 0.4″)
18 * Seven-star Ladybugs (0.4″)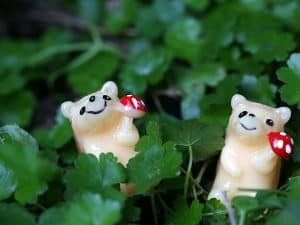 And they come in a plastic storage kit so you don't lose any.
People who have purchased this kit rated it very highly and over 56 customer reviews it received an average of 4.4 out of 5.
A slight warning, though. The pieces are small so it would be best if you supervise very young children playing with these ornaments.
===> Click here to get it for a very reasonable price.
Miniature Garden Ornament Kit – 87 pieces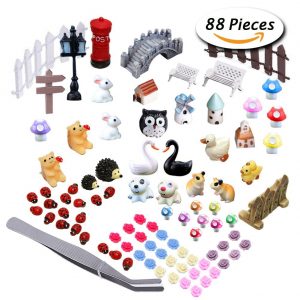 If you are looking for a bigger miniature garden ornament kit, you will definitely love this set.
The miniature ornaments are all really cute and made of resin. You'll get loads of fun just looking at them and examining them closely!
They are made of resin and so are waterproof and suitable for outside but really they are intended to be used inside where you can see them better and they won't get all dirty and mucky.
They are small but the manufacturer thoughtfully includes a pair of stainless steel tweezers so you can easily pick them up and manoeuvre them about your scene.
Pieces included in the kit are: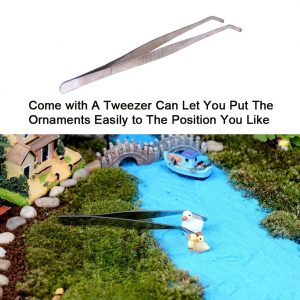 – 1 * Cat Owl (Random Color)
– 1 * Medium Bench
– 1 * Large Bench
– 1 * Bridge
– 1 * Mail Box
– 1 * Signpost
– 1 * Duck Set (3 Piece)
– 2 * Hamsters
– 2 * Street Lamp (Random Color)
– 2 * Hedgehogs
– 2 * Hedgehogs with Mushroom
– 2 * Swans
– 2 * Dogs
– 2 * Rubbits
– 2 * Fences
– 4 * Houses
– 4 * Big Mushrooms
– 8 * Medium Mushrooms
– 18 * Ladybugs
– 30 * Flowers (Random Color)
– 1 * Stainless Steel Tweezer
Unbelievably for a product this price, the seller offers a 48 day money-back service and a 2 year warranty.
But judging from customer reviews, I don't think you'll need them. Out of 28 reviews, the kit gets 4.7 out of 5. Customers comment on how well made they are, as well as how bright, colourful and cute they are.
As they are small, it would be advisable to always supervise smaller children playing with them.
===> Click here to get them really cheaply!
So this was my collection. If you liked it, please leave a comment and if you really liked it, a facebook like would be brilliant.
If fairies aren't your thing, check out my large garden gnomes, rude garden gnomes and funny garden gnomes.
Bookmark this page and come back from time to time. I'll keep adding to my miniature fairy garden kits collection.