Note : If you click a link on this page and make a purchase, I may receive a commission but it won't cost you any more. See my disclosure notes
here
.
Large Garden Gnomes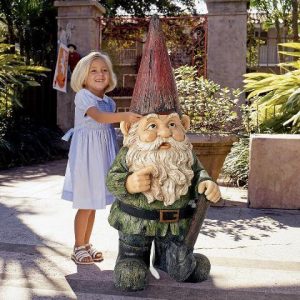 If you're not looking for rude, or funny gnomes, perhaps we need to think in terms of scale and you need to be searching for large garden gnomes.
It's all very well assuming that gnomes are little people and having little representations of them dotted about your garden.
But sometime you just want to make a statement, to Go Large a bit and have something that bit bigger. Something that will scare off that cat that uses your lawn as a toilet, perhaps.  A large 3 foot garden gnome would certainly do that, but it's not that easy to find 3 feet tall garden gnomes!
Or perhaps you just want something bright and eye-catching for people who pass your property and your visiting friends and family. Big lawn ornaments are often a bit more fun.
If you want to buy a large garden gnome, I can help you with that as I know where there are some for sale.
Here's my list.
PS – My list focuses on Large Garden Gnomes in the UK.
—-> See Large Garden Gnomes in the USA by clicking here
I'm sorry but some of the gnomes are going in and out of stock.
If you want to see a full selection currently in stock, please click here
Big Mankini Gnome
This guy is the ultimate surfing dude and is as easygoing as they come.
Wearing the traditional red cap and sporting the traditional long white beard, that is where traditional ends!
Because this 21cm tall gnome is so care-free that he doesn't wear regular gnome clothes but instead goes about his day to day beach life in a blue mankini and carrying a red and white life ring.
In true cool dude tradition, he poses the peace sign with two fingers raised in peaceful salute.
He is very funny and would be sure to raise a smile at anyone who visits or sees him.
An excellent gift for a keen gardener or gnome enthisiast!

Large Liverpool FC Gnome
Although this guy could also fit into the football gnomes page, he deserves a place here as he is also a large garden gnome.
At approx 31cm tall this great guy really adds a bit of football to your garden.
Officially endorsed by the club, he wears the traditional red kit emblazoned with the Liver bird on the front. Still a gnome, he has a white beard but black football boots instead of black wellington boots.
There are 9 ratings by people who actually bought this product and 8 are 5 star. The ninth was one start but that was only because it was broken, which could happen to any delivery. The other 8 loved it.
Would make a great gift for a fan of the reds who also loves their garden.
Come on you reds!  Click below to get this red guy.
PS I also saw he was available for Man City here.
PPS See other great footy gnomes on my page here
Large Ladder Climbing Gnomes
If you could use a little gnome magic in a garden flower bed or vegetable patch, Design Toscano climbing garden gnome sculpture rises to the occasion.
With their pointed elf hats and full gnome attire, these garden gnomes are superior to all other gnomes and welcome all visitors to your home or garden.
The imaginatively designed garden gnome figurine is lovingly crafted from high-quality designer resin and then hand-painted piece by piece by Toscano's expert artisans. W x D x H: 6 x 5/12 x 12 in.; 1 lbs.
Gnome Solar Fire Hydrant House
This uniquely designed cute fairy big house is a fire hydrant house-like appearance with flowers, windows, doors, and gnomes. The ornament is hollow, which makes it possible to illuminate it from inside.  The effect of a treehouse in the shape of a fire hydrant lit up at night provides a unique talking point in your garden.
Made of durable, high-quality resin, this garden fairy house can stay outside all year round without getting damaged. The use of high-quality paint makes it weather resistant and protects it from fading in the sun and water. With built-in solar-powered warm LED lights, it glows at dusk after the integrated solar panel has been charged with sunlight during the day—no need to continually change batteries and more environmentally friendly.
The ornament would look great in your garden or house, or on tabletops, patios, or decks and a good gift for children to build their fairy garden.
It measures 22.5cm long * 14.5cm wide * 39.5cm high.
Big Garden Gnome with Axe
This happy guy is big, brightly coloured and would be a great addition to your garden.
Made from reconstituted stone, he is 20 inches tall and weighs 10kg.
Traditional in style with a red cap, boots and a big white bushy beard, he holds a big axe in his hand.  But no jokes about big choppers please.
He looks such a jolly fellow that he would definitely add that certain something to your lawn, as well as being a talking point for your friends, family and neighbours.  Although he's clutching an axe, you can tell from his happy smile and gormless disposition that he means you no harm.
Get your axe-wielding gnome by clicking below.

If you find this large gnome with an axe threatening, you can try his brother who is holding a watering can.
Perhaps a large garden gnome with a watering can is less threatening?
Click below to see him.

32cm Gnome with Lantern
This is a delightful traditional large garden gnome, although the colours, being a grey hat and tunic, are not traditional but make him different for it.
He holds some mushrooms in one hand which are very delicately painted, and at his feet are a few other more brightly painted mushrooms.
In his other hand he holds a black crook, from which hangs a removable lantern. This mini lantern is painted black as well and can be removed so you can insert a standard tea light candle into it. When you light this at night, it's genuine flickering will add a beutiful romantic atmosphere to your garden which everyone will love.
He is about 32cm tall, made from terracotta and is hand painted. The lantern measurers about 7 x 7 x 10 which will hold a tea light.
This large garden gnome with lantern would be a great addition to any enthusiast's garden and would provide a great talking point with friends and family. He would also make a great gift for someone of any age.
Check him out by clicking the button. He doesn't cost a lot but looks great.

** Update – The cute lantern gnome above sometimes seems to be out of stock lately.
——-> If you really want a garden gnome with a lantern, try this one
Set of 4 Large Gnomes ready for work
This fantastic set allows you to add not one working gnome to your collection but 4!
They are brightly coloured to add a bit of colour to your garden.  Three have traditional red gnome hats while the fourth has a blue one. Perhaps he is the foreman?
Two have yellow jackets, one green and one red. Three wear blue trousers and one wears green.  All four wear black boots and sport traditional bushy white gnome beards.  Each carries a different tool: shears, axe, spade and a lamp.
Truly large gnomes, each one is approx 29cm tall x 8cm wide x 10cm long.
They have been very well accepted by customers who have bought them There are only five reviews but all are 5 stars, meaning people really liked them.
Click the button below to get a set for yourself.
Large Seaside Fun Garden and Home Gnomes (Set of 4)
These guys really know how to holiday. You may not have heard the phrase "He can holiday like a Gnome" but if you had then you would understand what it means.
And they're not shy either. They happily parade around in the brightly coloured swimwear, their round pink bellies glinting in the sun. One sports a jazzy surfboard, another a swimming ring, a third snorkelling gear and the fourth is happy to just give a victory salute while looking cool in his shades.
They really rock the easygoing holiday look and if people in Benidorm bought gnomes – either for the garden or to act as home gnomes – then they would sell like hotcakes there.
They are made of a durable poly resin and each gnome is about 28.5cm tall, which qualifies as a large gnome.
A perfect gift for the holiday loving gardener or gnome collector, these four guys will raise a smile to anyone who sees them nestling in your garden, even if they are doing it in the traditional English rain!
See more of these extreme holiday figures (and buy them for a great price) by clicking on the button under here
**UPDATE 01-07-2019**  Unfortunately these great guys had been unavailable for quite some time but now they seem to back in the game!
If you click on the link, they may or may not be available but I ceretainly hope they are. They've proved to be a popular favourite with my visitors**

If the four aren't available, I have noticed that one of these magnificent gnomes ARE available
– the one with the rubber ring.
But instead of being 28.5cm tall, this huge garden gnome is 60cm tall!
You will love him.
===> Click here to get the large gnome with the rubber ring!!! <===
Cool Dude Surfer Gnome
The cool surfing dude appears again but this time he's wearing a lot more clothes, thank goodness.
He's still got the red gnome cap and long white beard but this time he wearing red shorts and a yellow shirt wide open to show off his belly and chest.
He finishes off the look with cool dark sunglasses and a can of beer in his hand.
A gnome after my own heart!
This guy is about 25cm tall and made from resin. He is brightly painted and highly detailed.
He would be a great addition to any gnome garden or a great gift for someone who likes this kind of thing.
Click the button below to buy him or find out more

I'm sorry but some of the gnomes are going in and out of stock.
If you want to see a full selection currently in stock, please click here
Large Red Gnome Wheelie Bin Sticker
Perhaps you don't have much space for gnomes in your garden but you love them?
Perhaps those blasted kids mess about with them at night to wind you up?
You can still have a dramatic garden gnome presence with this fabulous Large Red Gnome Wheelie Bin Sticker!
Made to fit large 180 lite wheelie bins, these gnome images are printed in high def photo quality on a self adhesive vinyl which is suitable for outdoors, hard wearing and you can wash it.
Easy to fit, these panels are suitable to be applied on all flat surfaces but these ones are also tailored to fit standard wheelie bin sizes. So you shouldn't need to cut them and should be able to quickly apply them.
Transform your boring old wheelie bin, or give it as a gift to someone who loves ther gnomes.
About £13 including delivery.
Click the button to get one or see more details!

Ultimate Giant Gnome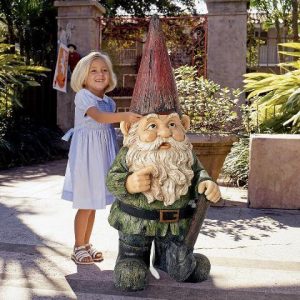 If Giant gnomes are your thing then this guy is the ultimate scoop and will send your gnome radar off the scale.
This giant garden gnome is said to hail from Northern Gnome Territory where legends tell tales of garden gnomes made giant by magical agents.
At nearly 4 feet tall, this very tall garden gnome must surely be the biggest you've ever seen! His dimensions are 19 inches wide x 16.5 inches deep x 45.5 inches tall.
But even though he is big, he is still very much a traditional gnome. He wears a red pointy hat, green tunic with obligatory black belt, britches and wellies. He sports a luxuriant white beard and carries a spade, ready to work on your garden while you sleep at night.
Cast in quality designer stone resin and hand painted to a high quality, this 35lb extra large garden gnome would provide a fabulous centrepiece to any lawn, garden path or flowerbed.
But with great size also comes great price!
This huge garden gnome sells for the huge price of £265.
Not for the faint-hearted but a great buy for the garden gnome lover and expert.
Click below to find out more.

Large Garden Gnomes gone but not forgotten……..
I once loved all these big guys but they seem difficult to get hold of now and dip in and out of stock.
If you love 'em too, cross your fingers and click on the link.
You may get lucky! If not, I'm sorry but don't bee too sad – I've got plenty more.
Tall Gnome with Green Umbrella
At 38.5 cm tall, this little fella certainly qualifies as a large garden gnome statue.
Although traditional in design he flouts the normal gnome colours and will add a massive dash of colour to your garden.
He stands casually with his foot atop a brightly coloured red spotted mushroom in his lilac coloured overcoat although he still wears a black belt and boots.
He reads a book through small round glasses perched on the end of his nose and keeps himself and his book dry with a large purple umbrella.
See more of this larger than normal garden gnome by clicking on the green button.  He sells for a very reasonable price.

60cm Large Mexican Themed Gnome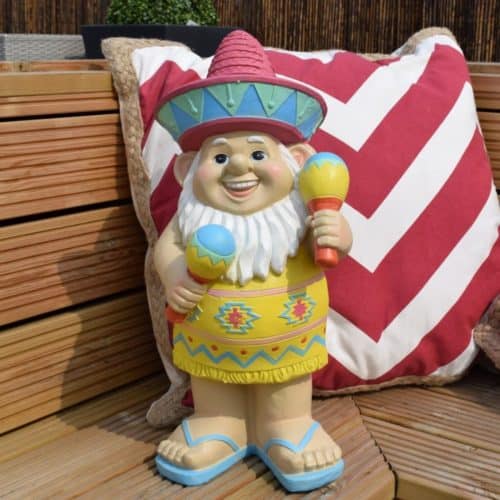 Picture a scenario…..
You are in your garden on a beautiful Summer morning.
The sun is shining, the air is crisp, cool, just starting to warm up.
Let me ask you a question.
You look out at your plants, at your ornaments and what's the first thing you think of?
Mexico, of course!
Er, excuse me, what? How did Mexico come into it?
And that is exactly how visistors will react when they see this magnificent specimen.
Yes, he is underneath a standard gnome but there is no sign of the red cap, black britches or wellies.
He stands there in his bright yellow tunic and massive red and blue sombrero hat, a big smile on his face like he has just won the lottery.
On his feet are, of all things, blue thong flip flops and in his hands are a pair of maracas (oo er missus – is this a rude garden gnome?)
Hand painted and frost resistant, at 60cm tall, he is a giant garden gnome and is sure to bring a smile as big as his to every friend or family member who visits your garden.
Click the button under here to check him out.

Large 28cm Sitting Woodland Brown Gnome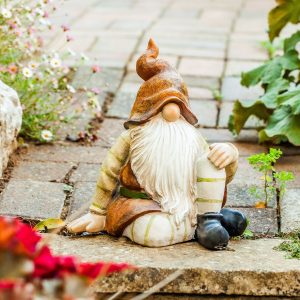 I really like this gnome as he presents an alternative to the traditional red-capped variety if you already have plenty of those.
His parents (or perhaps the company that makes him) call him Juniper and say he is their sitting woodland garden gnome.
Made from coloured polyresin, he is hand painted and beautifully detailed. He measures H28 x W21 x D21cm and is weather resistant.
He loves being out in the garden and a nice shady spot under a tree would suit him down to the ground.
Perfect for either planted or patio areas, he would make a great gift and, I think, add a slightly sophisticated air to the garden gnome collection.
Check him out by clicking below.  He comes at a great price considering he looks so good!

Large Garden Gnomes doing Yoga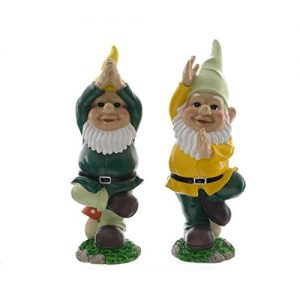 The health benefits of Yoga and Meditation are well known and understood, even amongst the Gnome community.
These two large standing Yoga Gnomes are fully embracing the principle.
Every morning at 6am sharp they can be seen adopting their yoga pose in the garden along the road.
Their happy smiley faces show they are just about as New Age a gnome can get!
Hand painted, they are brightly coloured, both stand on one leg and arrange their hands in a yoga position. One has a mustard coloured top, green pants and a pale green hat. The other guy is more traditional in a dark green tunic and yellow cap. Both have the big white bushy gnome beards.
They certainly qualify as giant garden gnomes, being approximately 47cm tall (18.5 inches), 16cm deep and 16 cm wide.
They are UV and frost resistant and would make a great gift, brightening up any indoor or outdoor space.
Click below to check them out, they come as a pair!

Saxon the Large Garden Gnome Ornament for Tree or Wall Mount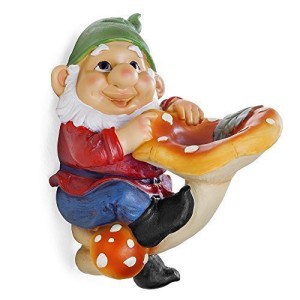 Finally we have Saxon,  brightly painted and sitting on a big mushroom.
He is made from resin with a hand painted finish, is weather resistant and measures 30 cm high x 14cm wide x 23cm deep.
He can sit among your plants and shrubs or can be set on a wall or tree for a higher up ornament.
Click on the green button below to see more of him, or buy him.

Ed the Busy Gardening Gnome Ornament with Flower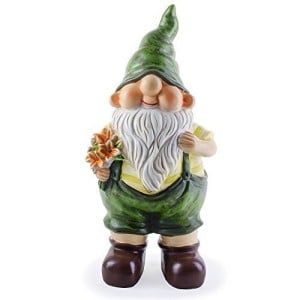 Meet Ed, the very busy gnome who loves gardening.
Made from a coloured resin, Ed has a hand-painted finish with lovely green dungarees and cap, and a luxurious bushy white beard.
He is approximately 32cm high and 14cm wide. Weather and frost resistant, he would make a lovely ornament on the lawn or pottering about in the flower beds or shrubbery.
Click below to meet him.  He costs a very respectable amount.
**UPDATE 08-08-2016 Unfortunately Ed has moved down the list as he seems to be unavailable lately. If you click on the link, he may or may not be available. Sorry**

Large Traditional 30cm Gnome with pick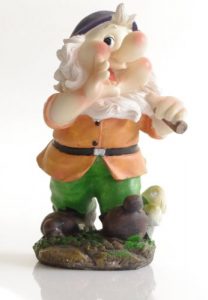 This simple – and very well priced at just over £10 – garden gnome will bring joy to any garden gnome lover's garden.
At 30cm, he qualifies as a large garden gnome and his cheeky round face and bright happy smile will bring a smile to you and your visitors too when you catch sight of him.
Traditional gome in design, he wears a purple cap, an orange tunic and bright green trousers. He wears the traditional belt around his waist and his hair is as white as snow.
He carries a pick over his shoulder, ready to work on your garden at night while you sleep.
Made of resin and hand painted, he will bring a bit of sunlight into your garden every day.
Click the button below to find out more about him.

Large Christmas Gnome with Fedora Hat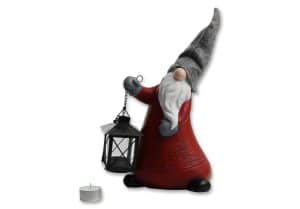 If you are looking for a large Christmas Gnome that you place either inside or outside your home over Christmas, then you've found the best one.
This great looking Christmas Gnome is handmade and hand painted with great care and precision.
He wears a grey felt hat, is made of ceramic and carries a metal lantern in which you can safely put a tea light (or an LED tea light) to add atmosphere to this garden ornament.
He really is eye-catching and would easily go in your home or porch to welcome visitors as in the garden. Wherever you place him he is bound to attract admiring glances and comments.
At 33cm tall, he is quite a large Christmas Gnome and he is also 21cm wide and 12cm deep.
And I'm sure you will find the price very reasonable too!
Click below to check him out.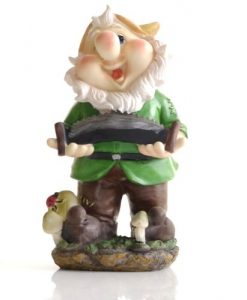 PS – If you're looking for a couple of gnomes for the garden, you can also get his brother.
Just as jolly (perhaps even jollier!) he carries a saw and is ready to saw the wood in your back into logs for your fire.
Click below to check him out as well

Large Woodland Garden Gnome & Wood Stick
This jolly looking fellow comes from a new range of traditional but also unique garden gnomes.
One of the good things about this gnome is the great detail and natural colours. Many garden ornaments come in garish colours and if they are not to your taste, then have a look at this guy who is coloured so naturally, he will blend in easily to your garden. This is definitely one gnome that doesn't look tacky or you need your sunglasses to look at him.
At 29cm tall, he isn't the biggest garden ornament ever, but he's a fair size. He isn't made from stone or garden ceramic materials, but from a stone polyresin mix which isn't as heavy but he still carries enough weight not to be blown over by the wind.
This garden statue looks great in any outdoor – or even indoor – display and he would make a great gift for a garden lover who wanted to tastefully add to the garden.
Click below to get one of these guys at a great price.

Large Graduation Gnome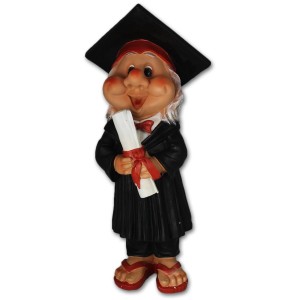 At 56cm tall, this is the largest garden gnome so far.
This one is not traditional at all! Dressed not in cap, shirt, belt and boots, this lady has just graduated from gnome university and is dressed accordingly. Compare her to the real thing here.
Wearing a cap and gown and proudly clutching a certificate, this lady garden gnome is anything but typical.
Handpainted, this unusual gnome is fully UV and frost resistant for outside use but would actually make a good indoor ornament.
She would make a perfect gift novelty gift for a graduate you may know.
Click the button under here to see more about her.

** Update 25-04-17 – This gnome seems to be out of stock quite a lot nowadays, my apologies. **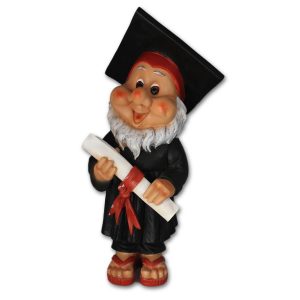 If you don't need a graduate girl gnome, perhaps you could consider this boy gnome graduate instead?
Smiley and happy he wears his cap and graduation gown with pride!
He also has tight hold of his prized certificate which has a red ribbon around it.
Hand painted, made from a resin-stone compound, he measures almost two feet high and would make a great gift.

Large Nosey Neighbour Garden Ornament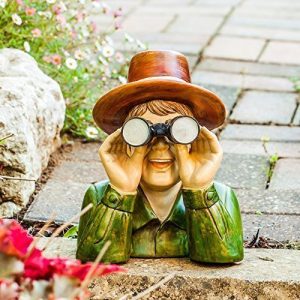 This item in the selection is not a gnome but I thought it was such a good garden ornament it just had to go in.
This ornament is the top half of a man in a hat peering through binoculars. Where he is looking only you know. And, of course, you can point him in the direction of your own nosy neighbours so they know you are onto them.
He is made from ployresin and his details are hand finished.
He measures 26cm high x 21cm wide x 15cm deep.
He would make a great gift and can be placed so as to be looking out from bushes or grasses or just on a path to make your visitors do a double take.
Click below for more details and the current price at Amazon.

Set of 2 Large Gnome Dwarf 38 cm with umbrellas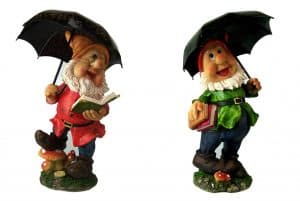 If you are looking for large garden gnomes, then these two certainly fit the bill.
They come as a pair and stand at about 37cm to 38cm.
The first guy is dressed in a bright red tunic, thick black belt, orange cap and black boots. He has ruddy cheeks and perched on the end of his nose are a pair of specs which enable him to read the book which he has open and balanced in one hand. In his other hand he holds a large umbrella as it is raining or he clearly expects rain. He casually rests one foot on a couple of brightly coloured mushrooms.
The other guy – his brother or friend – is just as jolly, wearing a bright smile on his face and walking at a jaunty pace. He is dressed in a bright green tunic over blue britches, brown boots and he also wears a thick black belt. He is carrying books but isn't trying to read them and he is also sheltering from the rain under a large umbrella.
These 2 fellas are made from polystone and would make a fantastic addition to anyone's garden. Their bright colours are bound to attract attention and comments frpom anyone who sees them.
Click below to buy these two jolly gnomes.

If none of these were to your liking, click here to see the full range.
Or see the range of zombies here.
I hope you liked my collection of large garden gnomes.  Leave me a comment – I'd be really pleased to hear from you.