Note : If you click a link on this page and make a purchase, I may receive a commission but it won't cost you any more. See my disclosure notes
here
.
Welcome to my roundup of Garden Gnome costumes for men.
You can picture the scenario.
The wife's best friend Brenda has decided to have a party.
It's a great idea because everyone loves a party.
But she's potentially ruined it by declaring it to be a fancy dress party.
Everyone knows men don't do fancy dress parties well.
You can't go as a rock star, or a tibetan monk.
You might have to declare you're washing your hair and reluctantly give it a miss that evening.
But wait – there's a way to pull the situation out of the fire.
You don't have to go in some lame costume – you can preserve your dignity and go as A GNOME!
I've explored the internet and come up with these great suggestions which will allow you to go to that party with your head held high, and be the hero of the party.
See my great collection of gnome fancy dress costimes for men below.
By the way – a gnome costume would be great as a Halloween costume – dare to be different!
Carry Me Gnome – Adult Garden Gnome Fancy Dress Costume
This classy Garden Gnome costume for adults comes in one size that fits men up to 6'2″.
It consists of a one piece Gnome costume with false human legs so as to appear that the kindly gnome is giving you a piggy back. It is made from a high quality plush fabric, 100% polyester.
The Gnome character is pretty traditional in design, wearing a blue coat over yellow t-shirt,
and red britches but comes with a distinctly non-traditional green hat. Still, I'm not sure many partygoers would notice it wasn't red. You won't get any stick over it.
It comes highly recommended by existing purchasers, 17 of whom have left a review, 16 of them 5 star, and 1 of them 3 star.
The majority of reviewers thought the costume was great fun and they loved it. An awful lot of them commented on the fact that it was well made and when it arrived, it actually looked better than it did in the online picture.
Many of them commented on the price but reflected and confirmed that it was worth it for the quality, proving the saying that ' you get what you pay for.'
The only reduction in the 3 star review was because some stitching came undone, which seems a bit harsh because the rest of the review was great.
This gnome costume is great fun to wear. It is suitable for themed parties ( Christmas, Santa's helper, Elf, Halloween etc) or charity racers or fundraisers.
Go, on, give everyone a laugh by buying one!
It will cost a bit but no one said being a party animal was cheap.
Click below to buy or see more details.
===> Click here for more details <===
Happy Gnome Costume Adult Male
This men's gnome costume is described as a Happy Gnome Costume, but if I'm honest, the guy in the photo doesn't look very happy. Perhaps it's because most of his face is obscured by the massive beard that comes withe costume? Or then again, if you look closely, there is a twinkle of laughter in his eyes.
This is a great male gnome costume and comes with the whole requirements to carry off a gnome disguise.
The costume comes with:
Bright yellow top with an attached blue elasticated waistcoat
Rope belt of decent length to tie around your waist
Nice green gnome hat
Shoe covers
Luxuriant bushy black beard (which might be itchy but you won't notice after a few pints)
One size fits all
The axe isn't included so you'll have to bring your own chopper.
Only one review for 4 stars. But the review said it was as described and dispatched promptly with no problems. So why not give it 5 stars? Why hold back?
Be the brightest light in the party – click below to get one.
===> Click to see this gnome costume for men here <===
Sneezy Gnome Costume – Adult Male One Size
This costume is just one of a trio of costumes that comprises Sneezy Gnome costume, Grumpy Gnome costume and Dopey Gnome costume.
If you were buying this for your husband, it might be fun to get him the Dopey costume, just for the secret underlying message you would be sending him. Great fun.
Again, one size fits all costume featuring:
Bright green top with an attached red elasticated waistcoat
Rope belt to tie around your waist as an accessory
Blue trousers that aren't too loud
Nice bright red gnome hat
Please note this costume is quite a bit cheaper so DOESN'T include the shoe covers or extremely impressive ginger beard. If you want those you'll need to buy them separately.
It doesn't include the plant and I'm not sure why it is there? Unless to explain why he's Sneezy – he's got hay fever or is allergic to plants.
There are two reviews which both give it 4 stars out of 5. No real issues apart from pointing out what isn't included. One reviewer said the material was a bit thin so it would be wise to wear something underneath. No going commando!
Click below to get one.
===> Click here for more details <===
…
Or if you want to be Dopey, click here
…
Or if you're feeling Grumpy, click here
Smiffy's Garden Gnome Male Costume
I'm not sure if this costume is a gnome or a smurf. It's my least favourite costume I think, but I wanted to give you lots of options.
It comprises a blue top, a pair of white dungarees, a white beard and a white hat.
There are 4 customer reviews, giving it 3 stars out of 5. Reviewers thought the sizing was abit off, in that the top was a bit small and the dungarees a bit big.
Costs vary according to size and if you're a big guy and it will cost a bit more.
===> Click here if you want to give it a try in blue <===
…
===> Or click here if you want a red/coral top. <===
If none of these costumes tickled your fancy, click below to see a whole range:
===> See a full range of garden gnome costumes for men <===

Garden gnome costumes for men – gone but not forgotten….
Sometime costumes in my collection sadly go out of stock.  But they are too good to just delete in case they come back into stock.
So if you like one – click the v=button to try your luck.  You might get lucky!
Garden Gnome Costumes for Men –  Blue Gnome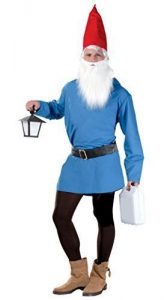 This Mens Blue Gnome Outfit is intended to allow you to attend a fancy dress party themed on Fairytales, Mythical Creatures etc, or possibly Christmas. You could obviously wear it to a general fancy dress occasion, be it a party or fundraiser.
The whole Gnome outfit consists of a Blue top, Black leggings, thick black belt, and a bright red hat.
Unfortunately, none of the fab looking accessories in the picture are included with this costume.
You'll just have to go looking for them separately.
There is nothing more to be said except that it will cost you about 23 quid.
To check it out, click below.
Snow White's "DOC" Dwarf or Gnome MALE Fun Fancy Dress Costume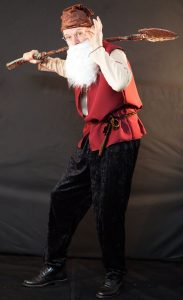 Now, technically speaking, if you were to go to a fancy dress party as a gnome in this costume, you would be CHEATING! That's because this costume represents Snow White's Doc, and he is a Dwarf, not a gnome.
But it would take a beady-eyed partygoer to notice the difference and I doubt if anyone would challenge you on it.
So I recommend having a punt and trying it out – it's a classy costume.
You get with it:
Long sleeved tunic top with waistcoat
Elasticated waist trousers
Belt
Dwarf hat
Beard
Specs with no glass in them
The costume would fit a standard male size, being 36-38 chest and 32-34 waist.
(Are you sure that's standard? That makes me XXXL)
It costs a bit but looks worth at least £1000
Click below to cheat like the devil but look great while doing so:
I hope you enjoyed my compilation of garden gnome costumes for men. Leave a comment if you liked it or didn't. I'd love to hear from you either way.
If you want a real gnome, not a costume, try my rude, large, funny or solar garden gnomes.