Garden gnome costume ideas for women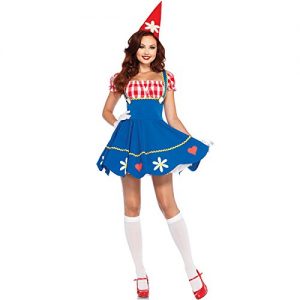 As a fan of garden gnomes, I've looked around the internet for garden gnome costume ideas for women.
Keep on reading and you're sure to find a female garden gnome costume you would love to wear.
If you don't find female garden gnomes costumes you love on this page, you'll never find them.
If you've seen my post on garden gnome costumes for men, you will know that I deeply understand the male intellect and understand that men pretty much hate dressing up. It's partly because men are mostly shy and don't want to stand out.
But women are different!
Many women enjoy an entertaining party and if that party involves wearing a great fancy dress costume, even better!
Well, if that's you (or if you are the bloke and fancy seeing your wife in a womens gnomes costume ) this article is bound to help.
It's full of garden gnome costumes women will love.
PS – This page showcases garden gnome costume ideas for women in the UK.
If you are a visitor from the USA and want to see some great garden gnome costume ideas for women in the USA, click the link below.  Happy shopping!
garden gnome costume ideas for women in the USA
Garden Gnome costume ideas #1
Adult Ladies Blue Garden Gnome Smurf Costume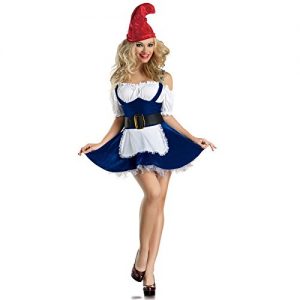 I don't mind admitting that this one's a bit racy!
In searching the internet I have found that some female gnome costumes can get men a bit hot under the collar.
But that's okay, you're allowed to have fun.
This brightly coloured female gnome costume has a built in petticoat and the navy blue dress is made of stretchable fabric.
The package includes a strong and lasting black faux leather belt and buckle,and a very sexy traditionally red gnome hat.
Although the dress fabric is stretchable, you will need to check that the costume size will be right for you.
The reported sizes are BUST 31-34″, WAIST 23-27″, Full length shoulder to trim is 29″
Click here for more details
Garden Gnome costume ideas #2
Smiffy's Adult Women's Garden Gnome Costume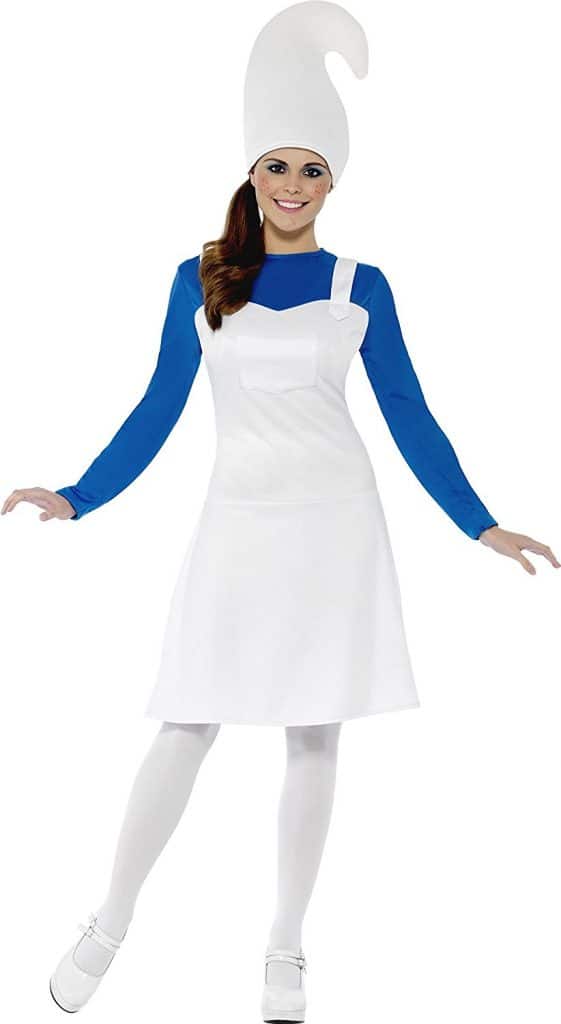 This is a slightly more demure women's garden gnome costume, but still allows you to show your funny side and turn up as a female garden gnome.
Absolutely perfect for themed parties, this costume consists of a dress and a hat. The dress is white with shoulder straps and it has a blue top sewn in. It is made from a lightweight material so you don't get too hot at the party and the velcro fastenings make it easy to get on and off.
The hat is white – and large! – and the dress is 100% polyester and needs to be dry cleaned.
It comes in three sizes, not surprisingly small, medium and large. Check out the size guide before ordering to make sure it will fit you.
Not sure who Smify is but he makes a great gnome costume for women.
Click to check it out. Be sure to also check out the blue or white tights to complete the ensemble.
Click here for garden gnome costume ideas
Garden Gnome costume ideas #3
Adult Lady Blue Garden Gnome smurf Costume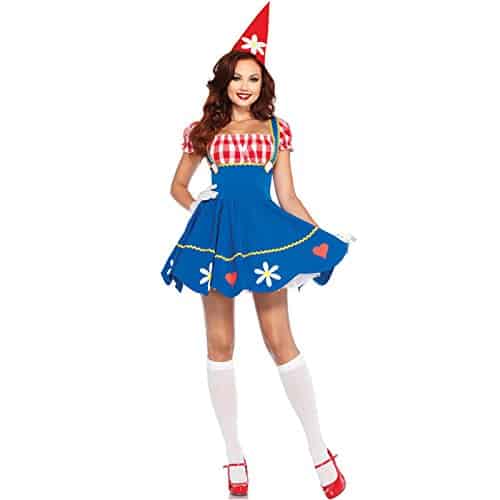 Another racy one, I'm afraid!
But quite a stunning party costume if you can carry it off.
It's sure to get you noticed and definitely talked about afterwards.
This is a quite short blue dress with a red chequered top.
On this picture there is a red hat with a white star on it but I'm not sure if that comes with it.
A warning, though, you will have to be of a certain size to carry it off – it only comes in size 10-12.
Click here for a great womens gnome costume
Garden Gnome costume ideas #4
Cute Ladies Gnome and Tights Costume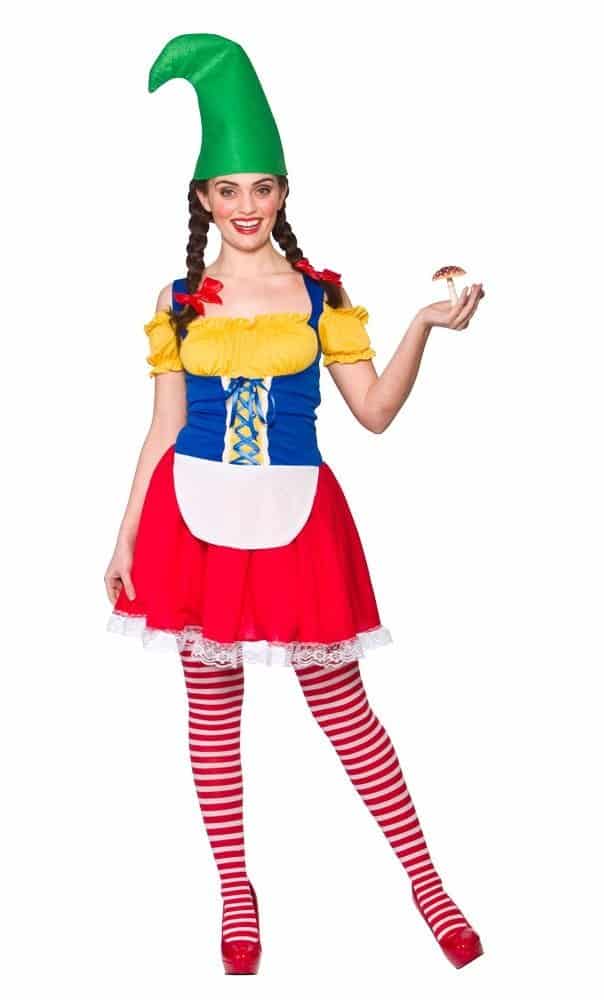 This is really quite a cute women's garden gnome costume and has an almost bavarian twist to it.
The whole costume consists of a very brightly coloured dress, a large green hat and a very fetching pair of red and white tights.
The dress itself has a yellow top, blue laced up bodice and a red skirt with built in petticoat and attached apron.
Just add a pair of high red shoes and you'll have a great garden gnome party outfit.
It comes in a few sizes so hopefully you'll find yours.
Click the button for more details.
Click here for female garden gnome costume
Garden Gnome costume ideas #5
Blue Garden Gnome Hat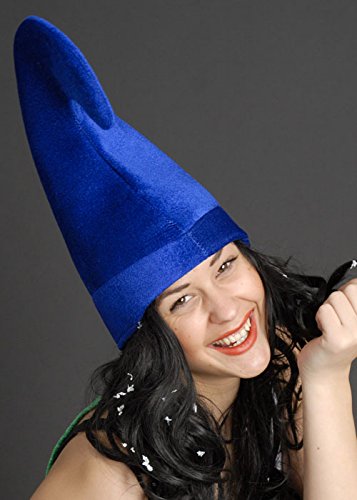 Okay, if you're not brave enough to go the whole hog and dress up entirely as a gnome, I do have a lesser option.
You could just go in your own clothes – but please make them as gnomesy as possible – but top it off with this fabulous adult gnome hat.
It comes only as a bright blue option and is shaped and curled to represent a gnome's hat.
It is adult size and could actually be suitable for a woman or a man.
But don't ever let on that it could be a Dwarf's hat.
Gnomes and Dwarfs do not get on and you'll just open a can of worms that is best left closed.
Click here for a garden gnome hat
Garden Gnome costume ideas #6
Ladies White & Blue Garden Gnome Fancy Dress Complete Smurf Costume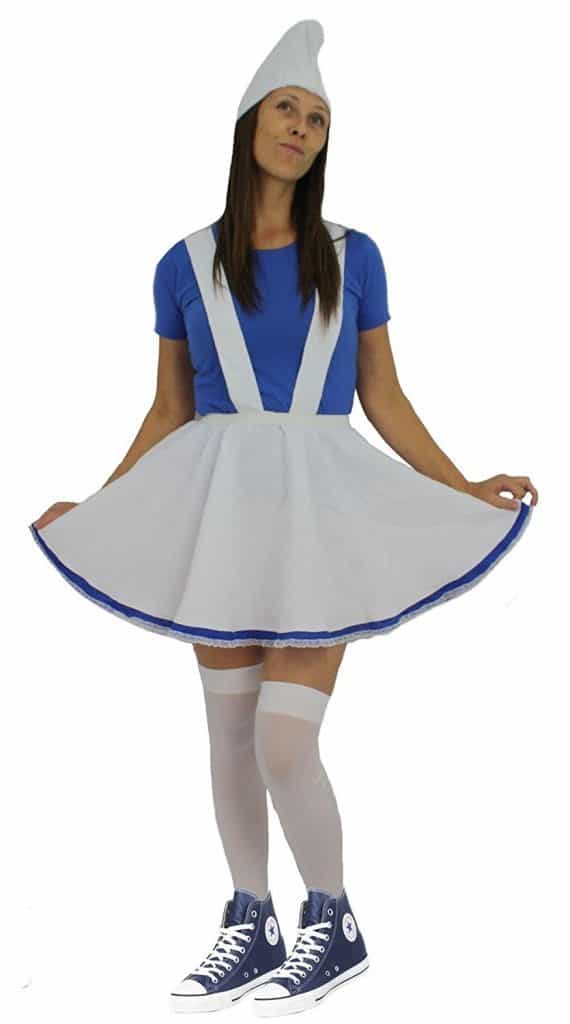 This blue and white female garden gnome costume is the perfect costume for any themed event you may be attending.
Suitable for a themed party, Hen party, Stag do or Halloween, it won't let you down and you will look great in it.
It's quite a simple gnome costume really, made up of blue T-shirt, white gnome hat and a ladies dungaree dress with big straps that go over the shoulders of the blue T-shirt.
It is made from Polyester and Cotton and comes in various sizes so you'll probably find one to suit you.
If you get one, make sure you also check out the tights to go with it. A pair of white ones, like the ones in the picture, would be ideal.
You could even finish it off with a pair of baseball trainers, like this one.
Click here for the best female gnome costumes
If you haven't seen one you like here, click on the link below to see a huge range of garden gnome costume ideas women will love.
Click here for the range of the best female gnome costumes
If you found the post useful or helpful, a Facebook like would be really appreciated!
Also, don't forget to check out my actual gnomes.  You can see large garden gnomes here, rude garden gnomes here,funny ones here and, my favourites, football garden gnomes here.
I hope you enjoyed my choice of garden gnome costume ideas for women – if you did, please leave a comment as I'd really like to hear from you.