Football Garden Gnomes – welcome to the collection
If you don't fancy a funny gnome, or maybe a rude or zombie one, maybe football garden gnomes are more to your liking?
Many people are keen gardeners and tend their garden with loving care.
Many people are keen football supporters and follow their team with passion and vigour.
Many people are both and there has been a recent popularity explosion in the football themed garden gnome, and sports garden gnomes in general.
And why not?  They bring a bit of colour and humour to your garden and show the world your loyalty to your club.
Just be sure your neighbour isn't a supporter of the other team or there could be a bit of football gnome shenanigans in the night.
My research has found the following fine examples of the breed, all at the very best prices I could find.
If you know a footballer gardener why not get them one of these happy guys?  Football garden gnomes make great presents.
See the whole football gnome range here
By the way, my collection looks at Football garden gnomes in the UK.
Click here to see football garden gnomes in the USA.
Barcelona Football Club Sliding Tackle Gnome
This bright looking footy garden gnome is officially licensed to Barcelona FC.
It is a novelty football garden ornament that is hardwearing and measures about 19cm x 12cm x 13cm.
Shown wearing the FC Barcelona kit, he executes a perfect sliding tackle against the opposition.
As this product comes in official packaging, it makes a great gift for the football fan.
At the time of writing this review, there were only 2 reviews and the average rating was 5 out of 5! Actual buyers of this gnome are loving them.
===> Click here to get your yours for a great price or see other Barcelona FC gnomes <===
Arsenal FC Garden Gnomes
Any outdoor area you have can become a footballing paradise with this superb novelty football themed garden ornament.  Football team gnomes have become very popular lately.
These magnificent official gnomes stand proud at 23 cm tall and come boxed, which would make them an excellent gift for any football gardening fan.
This particular guy is in the Arsenal kit, including the club crest and is officially endorsed by Arsenal Football Club.
There are many other gnomes available in the same kit colours which you can see by clicking the link below
===> Click here to get your yours for a great price <===
Chelsea F.C. Garden Gnomes
This gnome stands tall with his foot placed firmly on the football and would be a great sight in any garden, and a great gift for any football mad gardener.
The approximate size is 28cm tall and comes in a presentation box.
This fella is in the colours of Chelsea FC and he wears the kit proudly.
Chelsea FC was founded in 1905 and have spent most of the years since playing in top flight English and European football. Since their foundation they have played their home games at a former athletics stadium at Stamford Bridge.
A quality knome made from a hard wearing material and weather resistant. The painting is of a high standard and it would be ideal for any football fan.
Click here to see him and more Chelsea gnomes.
Leeds United Classic Colours TALKING Football Gnome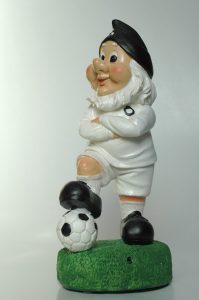 This is a very unusual one that will shout football phrases out loud whenever he detects any one passing by.
He stands at appx 25cm tall and is powered by a light/motion sensor.
Phrases he shouts are:
"On me 'ed, son!"
" Should've gone to Specsavers Ref!"
" Who ate all the pies?!"
"Pass! PASS!"
"Well that one's in Row Z!"
"He beats one, he beats two..ooh! Side netting!"
This Leeds United Garden Gnome is kitted out in the classic Leeds United black and White colours. But you can get one in most of the top team colours including Man United, Liverpool, West Ham, Man City, Arsenal, Tottenham and loads of others.
This football gnome would make a great gift and could just as easily be used indoors on a desk as outdoors on the patio.  Surely it is the very best leeds united gnome you could buy for a fan!
He runs off 2 x AAA batteries and, thankfully, he has an on/off switch for those times when you might just want a bit of peace and quiet!
See the range
Manchester United Celebration Gnome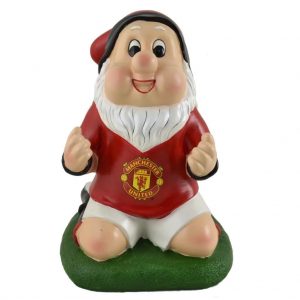 This happy striker has just scored the best goal of his life in the 89th minute of a cup final game. That's how happy he is!
On his knees, his fists are clenched in a gesture of satisfaction and his little face is beaming.
He is about 25cm tall, quite a chunky character and kitted out in the red and white of Manchester United.
Manchester United is one of the most famous football teams in the world and has fans worldwide. Founded in 1878 and originally called Newton Heath LYR FC, they changed their name to the one we all know in 1902. In 1910 they opened Old Trafford and have played their games there ever since.
The celebration gnome is also available in other team colours so don't worry if you're not a Man United fan.
See the celebration range
LFC Mushroom Football Gnome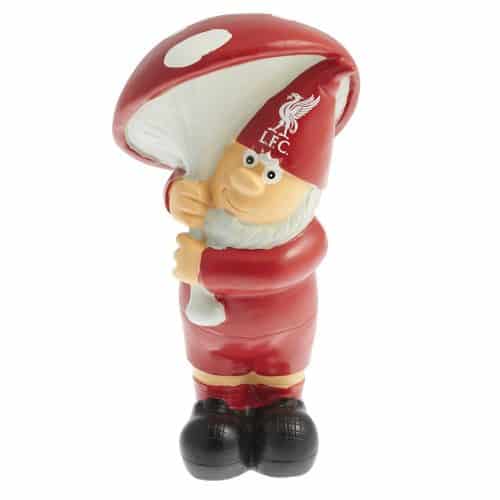 If you are looking for a gift for a gardener who is also a football fan, you won't go wong with this great football gnome.
These are official gnomes properly licensed by the various clubs.
This is a footy garden gnome dressed in the kit of your favourite football club clutching an oversized mushroom.
Of course it might be a normal sized mushroom to you and me but it's pretty big compared to the gnome.
This gnome is about 20cm in height and comes extremely well priced at about £7 each.
Dressed in the famous red colour of the Liverpool team, he has on red shorts, red socks and a red shirt. He also wears a red cap and on that cap is the famous LFC Liver Bird so no-one can be in doubt which team he represents.
Click the button below to see if YOUR favourite team is available and to check out the latest price.
Mushroom Footbal Garden Gnomes
Foreign Football Gnomes with a scarf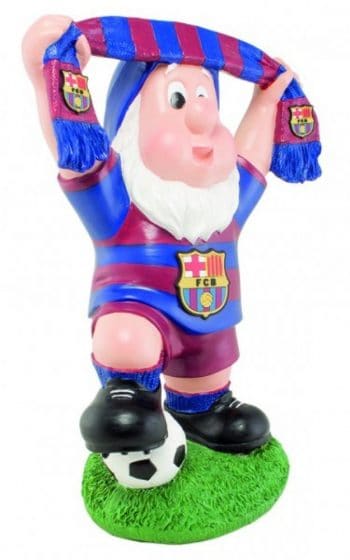 If you know a garden gnome fan who has a liking for foreigh football teams, this collection may help you find a great present.
The gnome in the picture is dressed in the FC Barcelona colours.
He wears the purple shorts, the blue and purple striped top and a blue gnome cap.
Above his head he proudly stretches a FC Barcelon scard in the same colours.
The FC Barcelona shield is prominent on his chest and there are slightly smaller versions on each end of his scarf.
Other teams represented in the range are :
Garden Gnome Scarf Borussia Mönchengladbach
Fortuna Düsseldorf Mini Garden Gnome with Scarf
FC Köln / Cologne Garden Gnome with Scarf
…….and at least 3 other teams.
They vary quite a bit in price so click below to see if the team you want is listed here.
Foreign Football Gnomes with a scarf
Chelsea F.C. Mini Gnome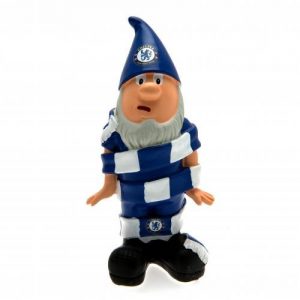 If you don't to buy a full sized football gnome, there are many options you can choose from will give you a mini football gnome.
The specimen gnome pictured here is a Chelsea Min Gnome and is produced undel license from Chelsea FC.
He is a little guy completely wrapped up by an extremely long bar style scarf. He wears the blue shirt and shorts kit of Chelsea and finishes it off with a blue gnome hat with the Chelsea emblem on it. There is also an emblem on the scarf.
He is made of painted resin and is approximately 18cm tall.
He would be a great present for a football fan and would look equally good on a desk as in the garden, proudly proclaiming the team you support.
Click on the button below to see the many teams that have a mini football gnome to see if the team you want is there. You will also see the current and best prices.
Chelsea F.C. Mini Gnome
If footballing isn't your thing, you can see my rude garden gnomes here, the funny range here, zombies here and large ones here.
I hope you find one you want.
Let me know what you think. It would be great to hear from you.