Note : If you click a link on this page and make a purchase, I may receive a commission but it won't cost you any more. See my disclosure notes
here
.
---
Best Biker Gnomes 2019
Biker Garden Gnomes seem to have become quite popular recently.
Perhaps out of a bit of an urge to imagine gnomes in a different way?
It's all very well thinking of rude garden gnomes, funny garden gnomes, zombie or football gnomes, but there is another way.
Traditional they have red caps, blue shirts, britches and wellies.  But some manufacturers have been seeing gnomes in a very different light.  They think of them as free spirits, riding to live and living to ride.
In other words, they have created a whole world of biker gnomes!  Motorcycle garden gnomes, leathers, helmet, harley – the whole 9 yards.
You need to act like a bat out of hell and look through my collection of biker gnomes uk right now!  You'll get the best biker garden gnomes price right here!
PS – My curated collection is Biker Garden Gnomes in the UK
Click here to see the very best biker gnomes in the USA.
PS You can see the ultimate biker gnome, The Gnominator, on another page on the site by clicking here.
Woodland Wilf Biker Gnome with solar headlight
The old garden favourite, Woodland Wilf, turns his hand to motorcycling for this very bright and endearing motorcycle garden ornament.
This intricately detailed garden gnome statue is modelled with Wilf riding his Harley style motorbike through the gardens and woodlands, the wind in his hair as he enjoys the freedom to ride wherever he wants.
His bike is a vivid shade of green to resemble some garden plants and Wilf himself is beautifully dressed in leathers that have a green tinge to them, a green lid and his luxuriant white beard.
Made from weather resistant polyresin, these guys are intricately handpainted using UV stabilised inks which will ensure that they look great for a long time when placed outside, even in direct sunlight.
He is about 17.5 cm in height and when it turns dark, his headlight glows from an LED which is charged from a solar strip strayegically placed on his rear mudguard.
One other thing to note is that Wilf comes with foam pads underneath which will protect your tables and shelves if you decide to buy him as an indoor ornament.
This is a massive seller and as I write this post, there have been 138 reviews of this gnome with a collective rating of 4.8 out of five which is a fantastic endorsement of this product. Reviewers love him and many started off buying him as a present but ended up buying some for themselves! Many commented on how well crafted it is and fully recommend it to friends and family.
This motorcycle gnome makes a great gift for friends and family who are gnome enthusiasts, bikers or both. And he costs a very reasonable amount of money.
As well as the gnome, you also get a Collector's Booklet in the box. Once you get biker Wilf and see just how good he is, you'll be looking to the whole of the collection!
Click below to get a Woodland Wilf of your own.
Design Toscano Biker Gnome
This guy is bad to the bone, a genuine class Gnome Biker with attitude.
He has an Ink Slinger skull tattoo, shades, black leather cut off waistcoat and a black gnome crumpled lid (or helmet as straight folk call them).
Hitting the road on his bright red Harley, bottle in hand, livin' life on his own terms and answering to no one.
He is cast in a quality designer resin and hand painted to a very high standard. Only hand painting could show off the flames on his fuel tank to their full glory and the tombstone tail light.
He measures about 13.5 inches wide x 5.5 inches deep x 11 inches tall and weighs about 3 lbs.
Would make a great gift, especially for the petrolhead type gardener!
Click below to get him today at a great price.
Biker Chick Gnome, Biker Babe
If you are looking for a female biker gnome, this one will fit the bill.
This biker babe garden gnome is a sturdy, durable biker themed garden ornament hand painted and cast in the style of a motorcyclist.
Wearing a traditional gnome hat but it's black instead of red and has 'Biker Babe' emblazoned across it.
She also has a traditional lady gnome pigtail but that's as far as it goes.
Black leather studded bra and black gloves mark her out as a very different type of gnome. As does the black chaps over her blue jeans which are tucked into her black gnome boots.
Made from resin, she measures about 30cm tall x 10cm wide and 15cm long, she would make a great present for a biker gardener.
Click the green button below to find out more.
Garden Gnome Rocker on his Motorbike
This is one tough gnome!
Chewing on a fat cigar, he sits astride his big motorcycle and flips you the bird if you happen to look at him. The bottle in his other hand tells its own story.
I bet if you took off his cool shades, he would have a steely look in his eyes.
But he is also literally tough, made from an unbreakable PVC compound that is also weather proof.
Double varnish protects him from the sun and keeps him looking bright in your garden. The varnish complies with DIN EN 71 which means it is harmless to children.
Measuring about 34cm high x 36cm wide x 20cm, he would make an eye catching gift for any garden lover.
Click the green button to see more and the current best price.

Beer and Motorbike Garden Gnome
This Motorbike Gnome Ornament is the very image of Summer Cool.
Gone are the wellies, britches and tunic which are so familiar in the traditional garden gnome.
Dressed very casually in shorts, with his shirt wide open, sunglasses on and nothing on his feet, the only gnome remnants are his beard and red cap.
He reclines on his red Harley Davidson and raises a cool bottle of beer in a salute.
He measures about 21cm x 20cm x 8cm and would make a great gift for any garden lover, biker or garden loving biker!
Click below to get him.
Biker Gnome Statue
This guy looks the part of the biker but he's clearly parked his bike and his making his way to the bar, he has such a determined look on his face!
The traditional white bushy beard is the only gnome characteristic that remains. Gone is the red cap and tunic.
He wears a black leather bikers jacket, a black leather cap on his head, black shades and high black boots. The only thing not black about him is his blue jeans which seem to be visible from the top of his boots.
Made of cold cast ceramic, he is about 8.75 inches high x 4.5 inches x 3.25 inches so he is quite a small garden gnome. But he carries a lot of realistic details to compensate for his small stature.
All in all he really looks the part and would add a touch of character to any garden.
Click below to get one straight away
If you didn't like any of this collection, click below to see more:
===> See the whole biker garden gnome range <===
Biker Garden Gnomes for sale – gone but not forgotten…
Sadly some of my curated motorbike gnomes have gone out of stock.
So I move them to this section to remind me what they looked like and just in case they come back into stock.
If you like the look of one of them, take a chance and click the button!  Hope you get lucky!
GHZ-Matra Motorcycle Garden Gnome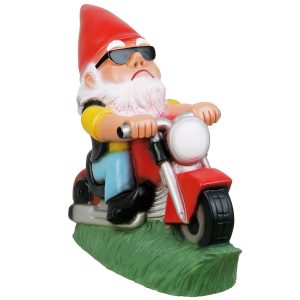 This is the last one in my biker collection and there isn't a lot of information about him.
Traditional gnome styling, he wears a red cap and has a white bushy beard. Yellow t-shirt, blue jeans and leather waistcoat mark him out as a bit different.
As do the shades and the bright red motorcycle he rides. Below him is a piece of green grass he's riding on.
This piece is very robust and durable, produced to a high standard and hand painted with colourfast and lightfast paint so he won't fade. Each piece is individually made to a set of unique designs.
Not many people will have this motorcycle garden ornament, so if you're looking to be a bit different, click below to get him for your garden or a gardener.
** Update 14 Aug 16 – This great biker gnome seems to be unavailable quite a lot lately, I'm sorry.  If you love him, though, still click below to give him a try.
Motorbike Garden Gnome Water Fountain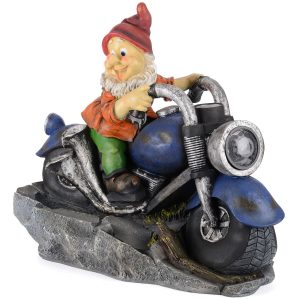 If you are looking for a biker gnome to brighten up your garden, this is it!
This very charming garden fountain is made from weatherproof polyresin and made to represent a very cheeky looking gnome riding a motorbike.
He is handpainted in great detail and features a LED which will delightfully light up your garden after it gets dark.
When you switch it on, this Gnome Water Fountain trickles water out of the exhaust pipes which is collected in a reservoir and circulated so it never needs replacing unless it evaporates in the sun.
The tranquil sound of the trickling water is really relaxing as you enjoy your garden.
It is mains powered and has a UK 3 pin plug with a 10m cable.
This should give you plenty of options to place it in your garden and yet still plug it in in the house or garage.
He measures about 66.5cm long x 34.2cm wide x 59.5cm high so he is a substantial garden ornament.
But delightful pieces of this size and quality don't come cheap.
Be prepared to pay for him but you will love him.
Click below to find out the current price.
Cute Garden Gnome Male on a bike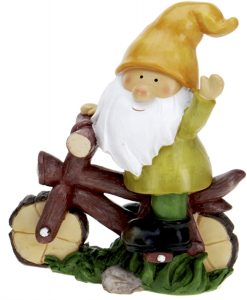 I'm not sure this really cute garden ornament qualifies as a biker as he seems to be riding a pushbike made of wood.
However, the collection is biker garden gnomes and he is definitely a biker, just not the motorcycling type.
Not dressed in traditonal colours of red, this little guy sports a very fashionable mix of green trousers, paler green tunic and green/mustard coloured hat. He does, however, have the black wellies, white bushy beard and big smile.
He seems such a happy chap and is probably very pleased that his transport is very green and environmentally friendly. He's doing no damage to the ozone layer.
He measures approximately 21cm tall and is so cute, could be used outdoors in the garden or indoors as an indoor ornament.
And he comes at a great price!
Click below to get one today.
Red Hat Garden Gnome Dwarf Riding Bike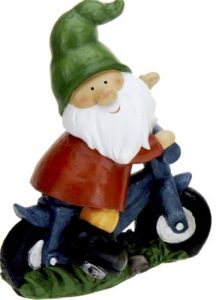 This cute special garden gnome would make a great present for all motorbike fans. He was born to ride his green bike everywhere, looking really cool in his bike and green cap.
Decorative and funny, he is bound to bring a smile to all you visiting friends and family.
Measuring about 21cm, this guy is a brightly coloured, high quality modern gnome for all gardens but can equally be used as an indoor ornament.
Rockin his motorbike, he rides his bright blue bike while wearing his yellow pants, black boots, red coat and bright green pointy hat.
Click below to check out the latest price but it won't be high.
Girl Gnome on a bike plant pot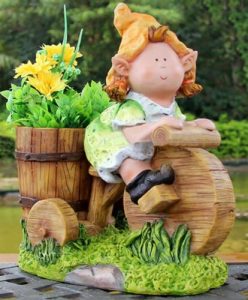 If you are looking for a cute lady garden gnome, then you need to look no further than this lovely garden ornament which depicts a girl gnome on a bike whic is also a planter.
She is a high quality garden ornament, made of natural resin and measuring approx 25cm x 13.6cm x 26.9cm, which is a good size for a gnome.
She is wearing a green smock dress and an orange cap ( which is not really very traditional in gnome terms) and she rides a wooden bike with a large front wheel. At the back are two small wheels upon which sits a wooden plantpot, suitable for your favourite flower.
She is really cute and would make a great present for a gardening enthusiast.
She costs a very reasonable ££.
Click below to get one or see more details
I hope you enjoyed my collection of biker garden gnomes 2019.
If you weren't looking for a biker, you can also see my collection of large garden gnomes and solar garden gnomes.
Please leave a comment. I'd love to hear from you.